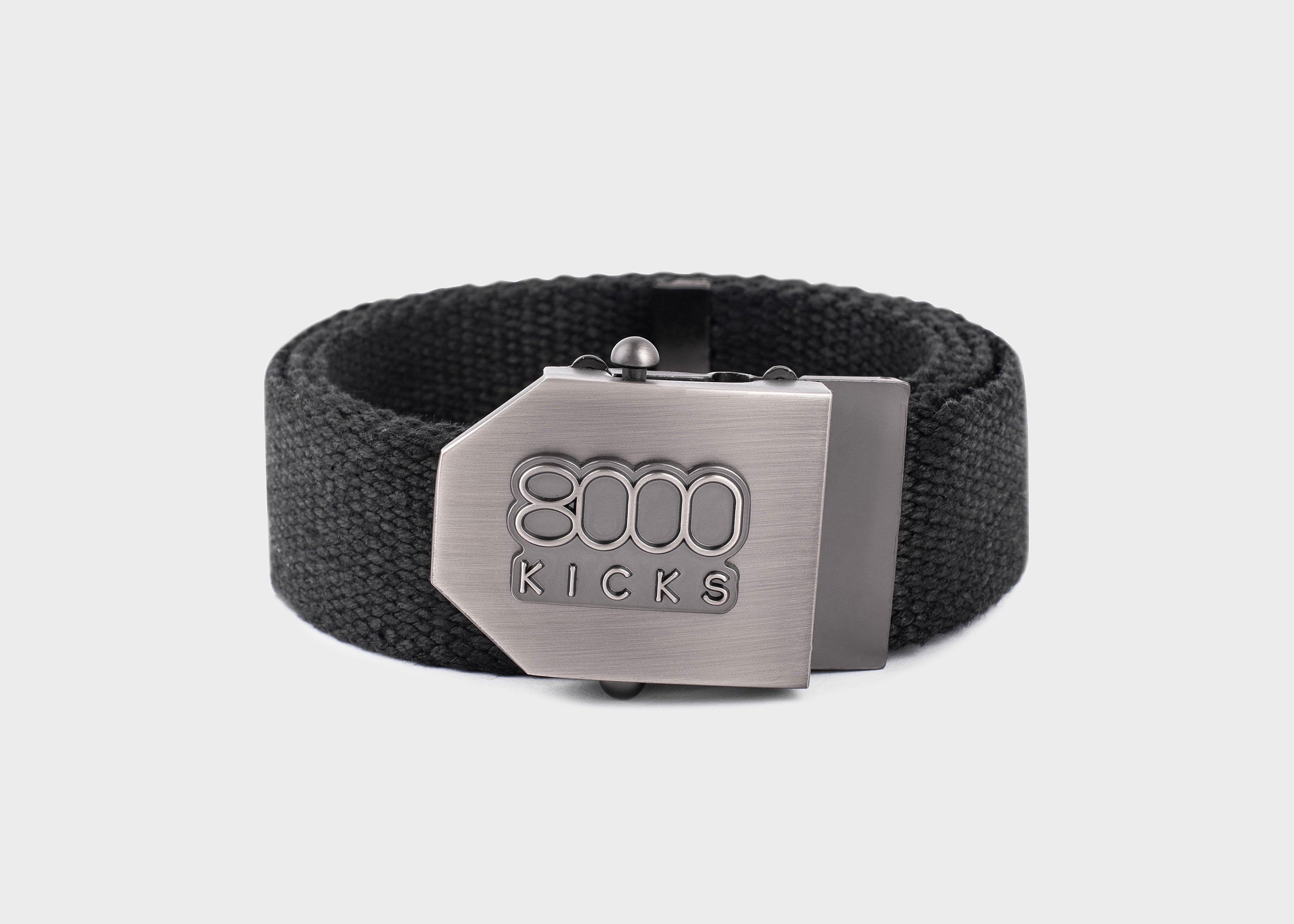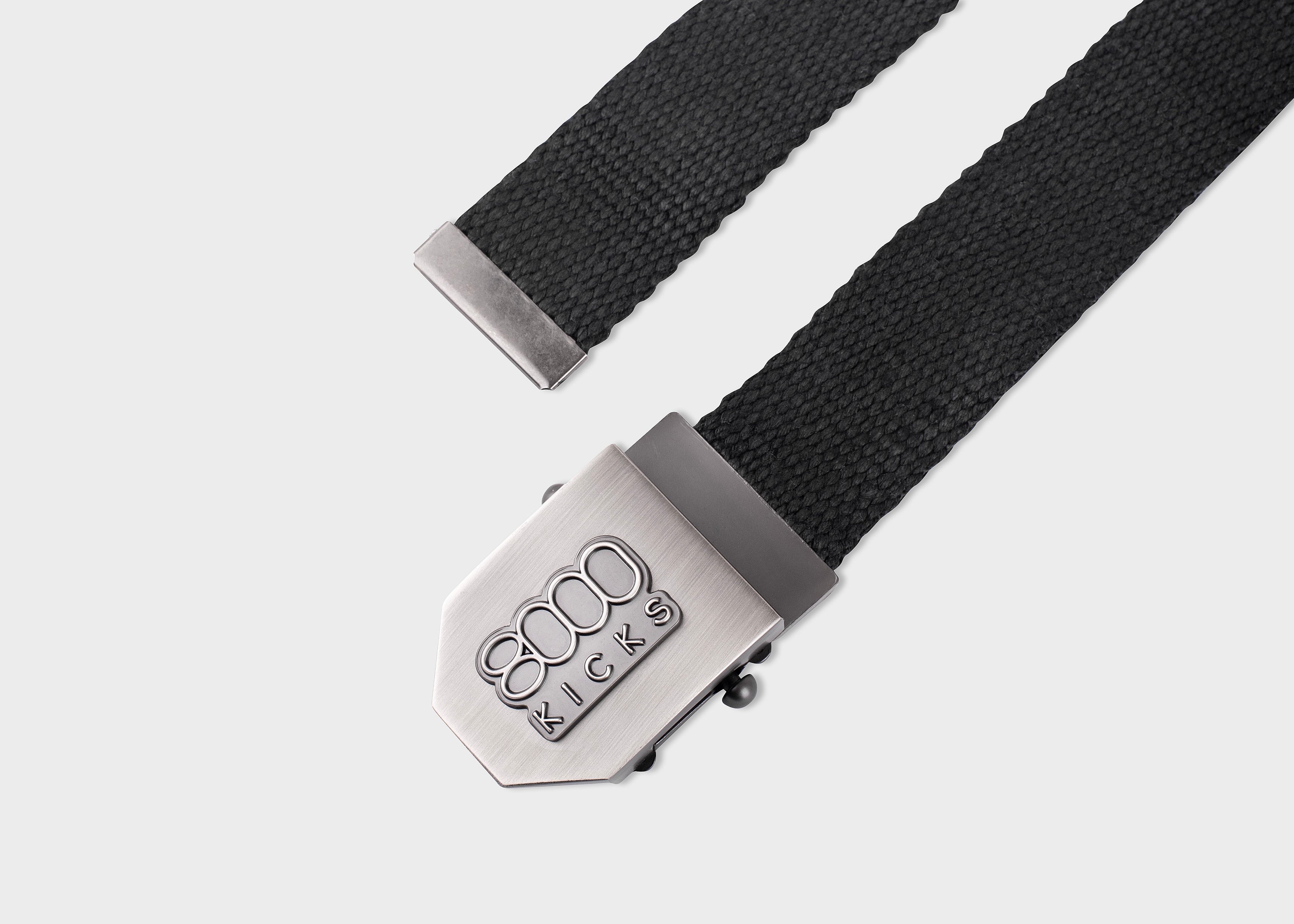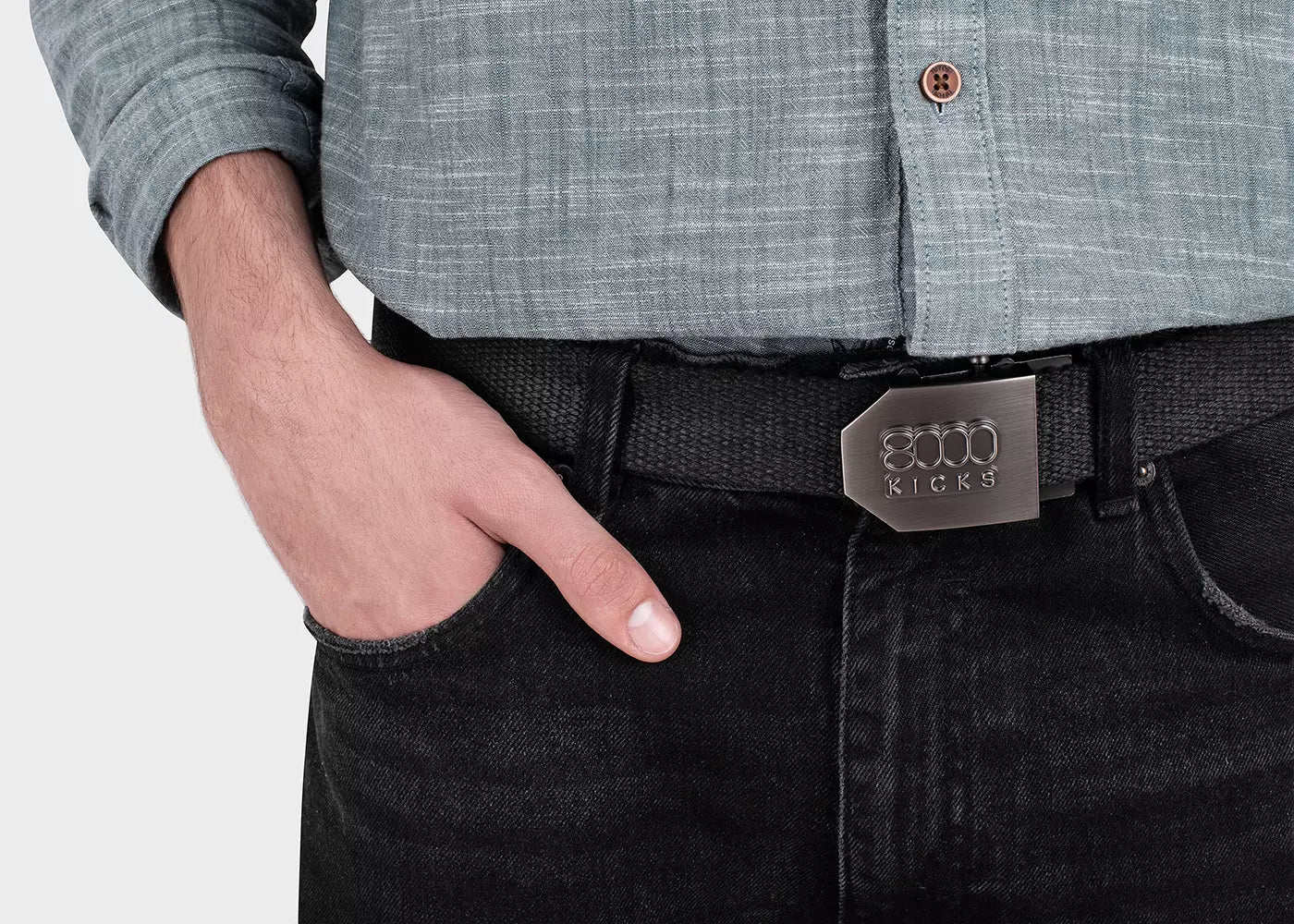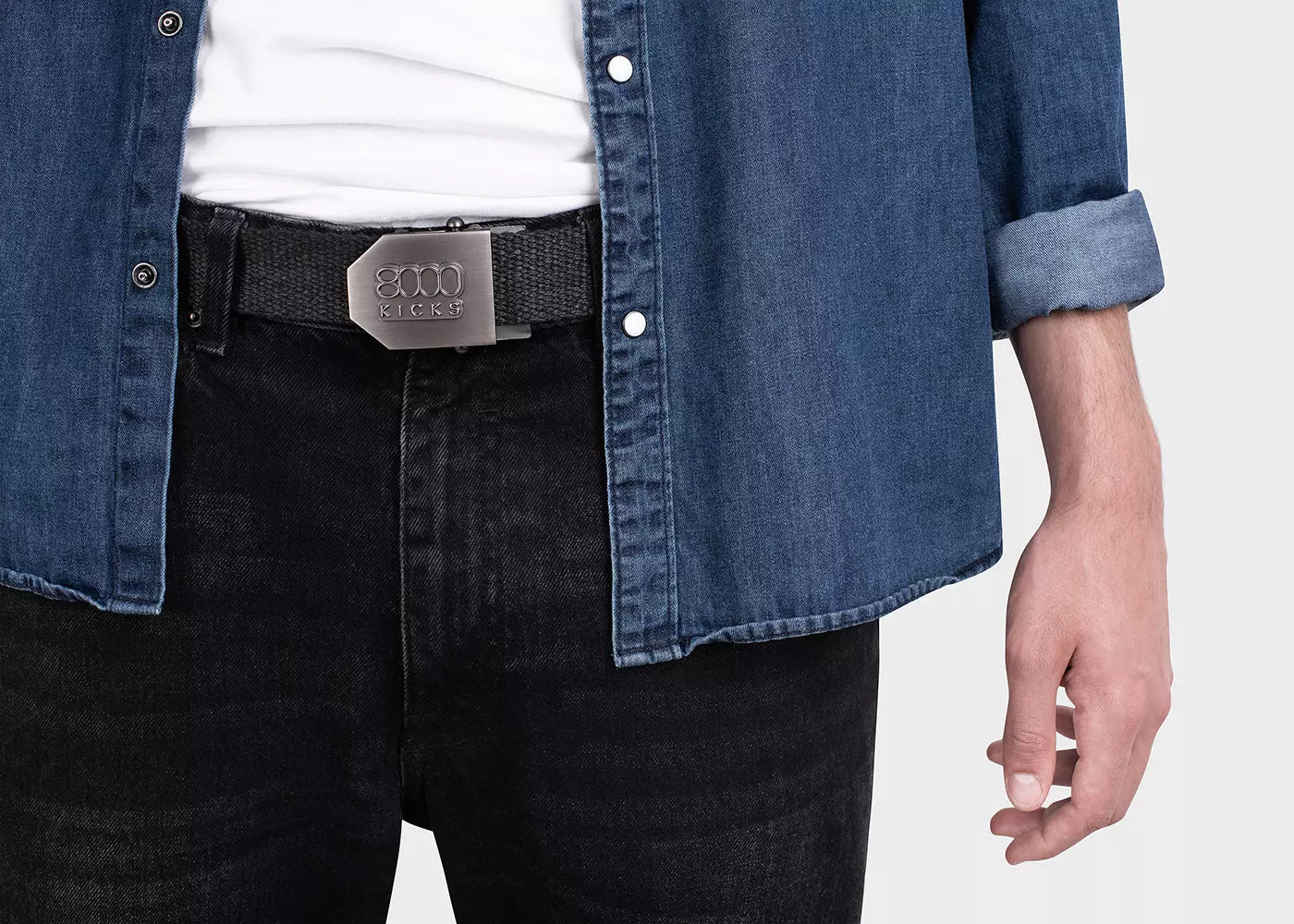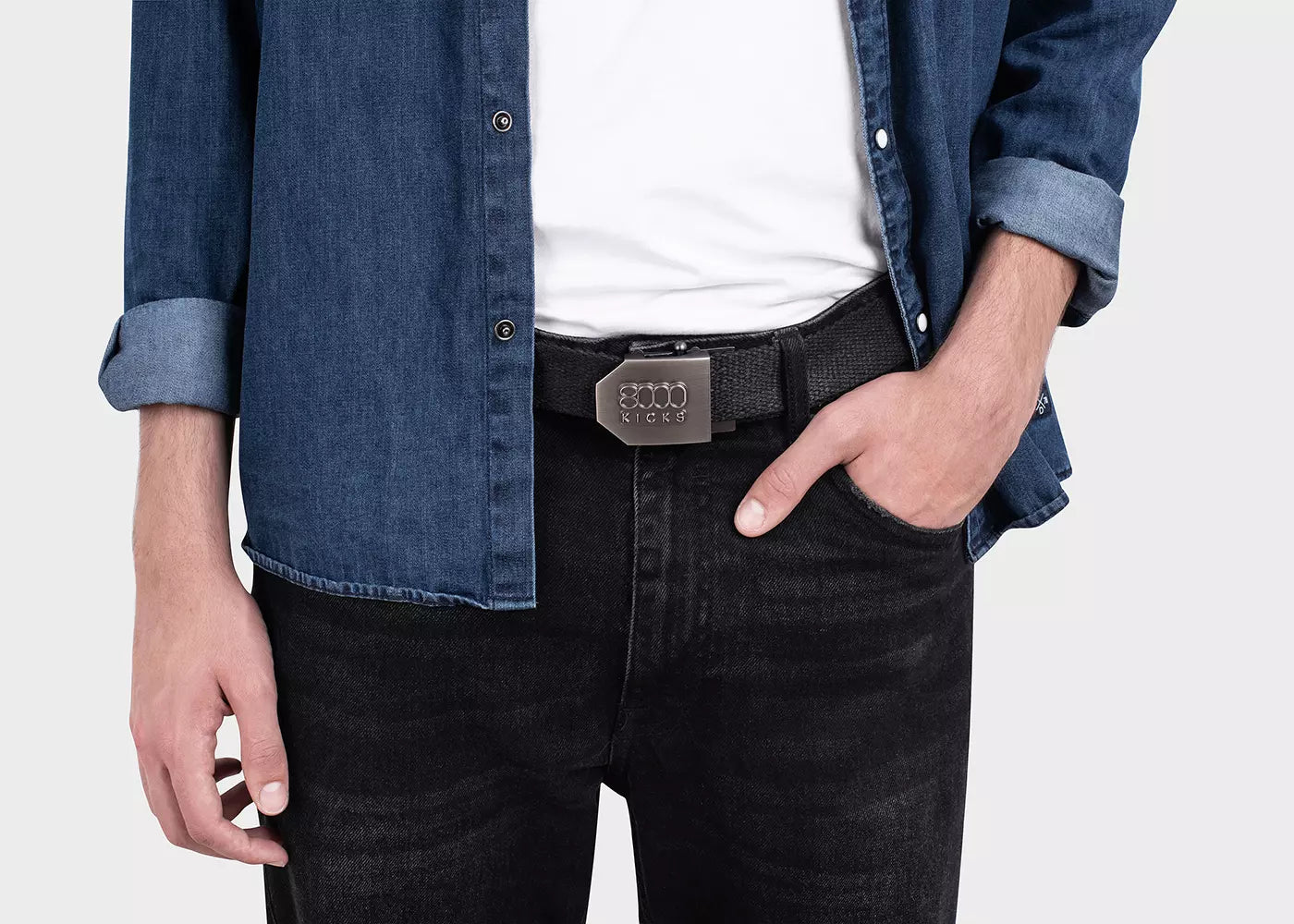 8000Kicks
Hemp belt in black
Introducing the new hemp belts by 8000kicks. The new 8000Kicks Hemp belts are also made in the EU with European hemp. This is the culminating effort from our team to bring back hemp manufacturing to Europe. 

⚙️ Heavy-duty
 zinc buckle
🍁 Strong Hemp fibers
📏 Adjustable strap length
Super Strong hemp strap
Our belt It comes with a super strong adjustable strap with 125 cm length and 40 mm width. It can be easily adjusted to the size of the waist. A simple mechanism allows easy and firm fastening of the belt.
Heavy duty zinc buckle
The buckle comes in polished hand-cast zinc clasp is finished in antique silver with the 3D 8000Kicks logo. The black hemp strip has a zinc end cap and a toothed mechanism allows for easy adjustment of the strap to your desired length.
Hemp belt in black
The hemp belt strap is too long, can I cut it?

Yes you can, Our hemp belt comes with a toothed mechanism, therefore you can cut the hemp strap and reinsert inside the buckle for a reduced belt length.

Is the buckle stainless?

Our buckle is make from premium zinc alloys that do not rust or lose its quality with time.

Are hemp belts good?

Hemp belts are made in hemp which is the most durable fiber in the world after spider web. Together with a strong buckle, our belts will surely last you a long time.

Is the belt 100% hemp?

Our belts come with an 100% hemp strap and an zinc allow buckle.
{"id":8288332644581,"title":"Hemp belt in black","handle":"black-hemp-belt","description":"\u003cscript type=\"application\/ld+json\"\u003e\n{\n\"@context\": \"https:\/\/schema.org\",\n\"@type\": \"FAQPage\",\n\"mainEntity\": [{\n\"@type\": \"Question\",\n\"name\": \"Are hemp socks comfortable?\",\n\"acceptedAnswer\": {\n\"@type\": \"Answer\",\n\"text\": \"In order to develop these socks, we looked at our past and asked older people how did they softened their clothing before the detergent era. The answer was too obvious to believe: baking soda, white vinegar, lavender oils and other stuff that you probably have on your kitchen already. You are blown away, we know.\"\n}\n}, { \n\"@type\": \"Question\",\n\"name\": \"What are the benefits of wearing hemp socks?\",\n\"acceptedAnswer\": {\n\"@type\": \"Answer\",\n\"text\": \"Super durable, highly breathable, ultra softened \u003ca href=https:\/\/www.8000kicks.com\/products\/ankle-hemp-socks\u003ehemp fibers\u003c\/a\u003e, anti-heel slip, and also naturally anti-bacterial and anti-fungal.By using hemp fiber, our socks fit into a whole new category. But there's more to it than it's fabric, as we like to innovate 360º when launching a new product. Despite the silicon anti-slip heel patch and the anti-bacterial properties of the sock, it's format was redesigned from the ground up to be ergonomic.\"\n}\n}]\n}\n\u003c\/script\u003e\n\u003cdiv\u003eIntroducing the new hemp belts by 8000kicks. The new 8000Kicks Hemp belts are also made in the EU with European hemp. This is the culminating effort from our team to bring back hemp manufacturing to Europe. \u003cbr\u003e\u003cspan\u003e\u003c\/span\u003e\n\u003c\/div\u003e\n\u003cdiv\u003e\n\u003cspan\u003e\u003c\/span\u003e\u003cbr\u003e\n\u003c\/div\u003e\n\u003cdiv\u003e\u003cspan\u003ePRODUCT DETAILS\u003c\/span\u003e\u003c\/div\u003e\n\u003cdiv\u003e⚙️ Heavy-duty\u003cspan data-mce-fragment=\"1\"\u003e zinc buckle\u003c\/span\u003e\n\u003c\/div\u003e\n\u003cdiv\u003e🍁 Strong Hemp fibers\u003c\/div\u003e\n\u003cdiv\u003e\u003cspan data-mce-fragment=\"1\"\u003e📏 Adjustable strap length\u003c\/span\u003e\u003c\/div\u003e\n\u003cdiv\u003e\u003cspan data-mce-fragment=\"1\"\u003e🌱 100% natural materials\u003c\/span\u003e\u003c\/div\u003e\n\u003cdiv\u003e\n\u003cdiv\u003e\n\u003cdiv data-hveid=\"CEQQAQ\" aria-expanded=\"true\" aria-controls=\"_1rt0ZLPVA4ehkdUPhrKU2As_45\" class=\"dnXCYb\" role=\"button\" tabindex=\"0\" data-mce-tabindex=\"0\" jsname=\"tJHJj\" jsaction=\"AWEk5c\"\u003e\n\u003cdiv class=\"JlqpRe\" jsname=\"lN6iy\"\u003e\u003cspan class=\"JCzEY ZwRhJd\"\u003e\u003cspan class=\"CSkcDe\"\u003e🔵 Made in Europe\u003c\/span\u003e\u003c\/span\u003e\u003c\/div\u003e\n\u003cdiv class=\"aj35ze\" jsname=\"Q8Kwad\"\u003e\u003cbr\u003e\u003c\/div\u003e\n\u003cdiv data-ved=\"2ahUKEwizmJy545r_AhWHUKQEHQYZBbsQuk56BAhEEAI\" class=\"L3Ezfd\" jsname=\"pcRaIe\"\u003e\u003cbr\u003e\u003c\/div\u003e\n\u003c\/div\u003e\n\u003c\/div\u003e\n\u003cdiv data-ved=\"2ahUKEwizmJy545r_AhWHUKQEHQYZBbsQ7NUEegQIRBAE\" id=\"_1rt0ZLPVA4ehkdUPhrKU2As_45\" class=\"bCOlv\" jsname=\"NRdf4c\"\u003e\n\u003cdiv class=\"IZE3Td\" jsslot=\"\"\u003e\n\u003cdiv data-ved=\"2ahUKEwizmJy545r_AhWHUKQEHQYZBbsQu04oAHoECEQQBQ\" data-hveid=\"CEQQBQ\" class=\"t0bRye r2fjmd\" jsname=\"oQYOj\"\u003e\n\u003cdiv id=\"1rt0ZLPVA4ehkdUPhrKU2As__72\"\u003e\n\u003cdiv data-md=\"61\" class=\"wDYxhc\"\u003e\n\u003cdiv data-hveid=\"CEEQAA\" role=\"heading\" aria-level=\"3\" data-attrid=\"wa:\/description\" class=\"LGOjhe\"\u003e\u003ca data-ved=\"2ahUKEwizmJy545r_AhWHUKQEHQYZBbsQFnoECDIQAw\" href=\"https:\/\/emojiguide.com\/symbols\/blue-circle\/\" data-mce-href=\"https:\/\/emojiguide.com\/symbols\/blue-circle\/\" ping=\"\/url?sa=t\u0026amp;source=web\u0026amp;rct=j\u0026amp;url=https:\/\/emojiguide.com\/symbols\/blue-circle\/\u0026amp;ved=2ahUKEwizmJy545r_AhWHUKQEHQYZBbsQFnoECDIQAw\" jsaction=\"rcuQ6b:npT2md\" jsname=\"qOiK6e\" jscontroller=\"M9mgyc\"\u003e\n\u003ch3 class=\"LC20lb MBeuO DKV0Md\"\u003e\u003cbr\u003e\u003c\/h3\u003e\n\u003c\/a\u003e\u003c\/div\u003e\n\u003c\/div\u003e\n\u003c\/div\u003e\n\u003cdiv id=\"1rt0ZLPVA4ehkdUPhrKU2As__73\"\u003e\n\u003cdiv class=\"g\"\u003e\n\u003cdiv data-ved=\"2ahUKEwizmJy545r_AhWHUKQEHQYZBbsQFSgAegQIMhAA\" data-hveid=\"CDIQAA\"\u003e\n\u003cdiv class=\"tF2Cxc\"\u003e\u003cbr\u003e\u003c\/div\u003e\n\u003c\/div\u003e\n\u003c\/div\u003e\n\u003c\/div\u003e\n\u003c\/div\u003e\n\u003c\/div\u003e\n\u003c\/div\u003e\n\u003c\/div\u003e\n\u003cdiv\u003e\u003cbr\u003e\u003c\/div\u003e\n\u003cdiv\u003e\u003cbr\u003e\u003c\/div\u003e\n\u003cdiv\u003e\u003cbr\u003e\u003c\/div\u003e\n\u003cdiv\u003e\n\u003cspan\u003e\u003c\/span\u003e\u003cbr\u003e\n\u003c\/div\u003e","published_at":"2023-05-29T13:43:19-04:00","created_at":"2023-05-29T10:39:27-04:00","vendor":"8000Kicks","type":"belt","tags":["belt","Hemp","Hemp Accessories","spo-default","spo-enabled"],"price":5900,"price_min":5900,"price_max":5900,"available":true,"price_varies":false,"compare_at_price":8000,"compare_at_price_min":8000,"compare_at_price_max":8000,"compare_at_price_varies":false,"variants":[{"id":44085745615077,"title":"Default Title","option1":"Default Title","option2":null,"option3":null,"sku":"BELT\/BLACK","requires_shipping":true,"taxable":true,"featured_image":null,"available":true,"name":"Hemp belt in black","public_title":null,"options":["Default Title"],"price":5900,"weight":0,"compare_at_price":8000,"inventory_management":"shopify","barcode":"","requires_selling_plan":false,"selling_plan_allocations":[]}],"images":["\/\/www.8000kicks.com\/cdn\/shop\/files\/8000Kicks_140.jpg?v=1685371192","\/\/www.8000kicks.com\/cdn\/shop\/files\/8000Kicks_141.jpg?v=1685371192","\/\/www.8000kicks.com\/cdn\/shop\/files\/8000kicks-145.webp?v=1685548258","\/\/www.8000kicks.com\/cdn\/shop\/files\/8000kicks-143.webp?v=1685548258","\/\/www.8000kicks.com\/cdn\/shop\/files\/8000kicks-144.webp?v=1685548258"],"featured_image":"\/\/www.8000kicks.com\/cdn\/shop\/files\/8000Kicks_140.jpg?v=1685371192","options":["Title"],"media":[{"alt":null,"id":32579112796389,"position":1,"preview_image":{"aspect_ratio":1.4,"height":2500,"width":3500,"src":"\/\/www.8000kicks.com\/cdn\/shop\/files\/8000Kicks_140.jpg?v=1685371192"},"aspect_ratio":1.4,"height":2500,"media_type":"image","src":"\/\/www.8000kicks.com\/cdn\/shop\/files\/8000Kicks_140.jpg?v=1685371192","width":3500},{"alt":null,"id":32579112829157,"position":2,"preview_image":{"aspect_ratio":1.4,"height":2500,"width":3500,"src":"\/\/www.8000kicks.com\/cdn\/shop\/files\/8000Kicks_141.jpg?v=1685371192"},"aspect_ratio":1.4,"height":2500,"media_type":"image","src":"\/\/www.8000kicks.com\/cdn\/shop\/files\/8000Kicks_141.jpg?v=1685371192","width":3500},{"alt":null,"id":32584090616037,"position":3,"preview_image":{"aspect_ratio":1.4,"height":1000,"width":1400,"src":"\/\/www.8000kicks.com\/cdn\/shop\/files\/8000kicks-145.webp?v=1685548258"},"aspect_ratio":1.4,"height":1000,"media_type":"image","src":"\/\/www.8000kicks.com\/cdn\/shop\/files\/8000kicks-145.webp?v=1685548258","width":1400},{"alt":null,"id":32582427672805,"position":4,"preview_image":{"aspect_ratio":1.4,"height":1000,"width":1400,"src":"\/\/www.8000kicks.com\/cdn\/shop\/files\/8000kicks-143.webp?v=1685548258"},"aspect_ratio":1.4,"height":1000,"media_type":"image","src":"\/\/www.8000kicks.com\/cdn\/shop\/files\/8000kicks-143.webp?v=1685548258","width":1400},{"alt":null,"id":32582427640037,"position":5,"preview_image":{"aspect_ratio":1.4,"height":1000,"width":1400,"src":"\/\/www.8000kicks.com\/cdn\/shop\/files\/8000kicks-144.webp?v=1685548258"},"aspect_ratio":1.4,"height":1000,"media_type":"image","src":"\/\/www.8000kicks.com\/cdn\/shop\/files\/8000kicks-144.webp?v=1685548258","width":1400}],"requires_selling_plan":false,"selling_plan_groups":[],"content":"\u003cscript type=\"application\/ld+json\"\u003e\n{\n\"@context\": \"https:\/\/schema.org\",\n\"@type\": \"FAQPage\",\n\"mainEntity\": [{\n\"@type\": \"Question\",\n\"name\": \"Are hemp socks comfortable?\",\n\"acceptedAnswer\": {\n\"@type\": \"Answer\",\n\"text\": \"In order to develop these socks, we looked at our past and asked older people how did they softened their clothing before the detergent era. The answer was too obvious to believe: baking soda, white vinegar, lavender oils and other stuff that you probably have on your kitchen already. You are blown away, we know.\"\n}\n}, { \n\"@type\": \"Question\",\n\"name\": \"What are the benefits of wearing hemp socks?\",\n\"acceptedAnswer\": {\n\"@type\": \"Answer\",\n\"text\": \"Super durable, highly breathable, ultra softened \u003ca href=https:\/\/www.8000kicks.com\/products\/ankle-hemp-socks\u003ehemp fibers\u003c\/a\u003e, anti-heel slip, and also naturally anti-bacterial and anti-fungal.By using hemp fiber, our socks fit into a whole new category. But there's more to it than it's fabric, as we like to innovate 360º when launching a new product. Despite the silicon anti-slip heel patch and the anti-bacterial properties of the sock, it's format was redesigned from the ground up to be ergonomic.\"\n}\n}]\n}\n\u003c\/script\u003e\n\u003cdiv\u003eIntroducing the new hemp belts by 8000kicks. The new 8000Kicks Hemp belts are also made in the EU with European hemp. This is the culminating effort from our team to bring back hemp manufacturing to Europe. \u003cbr\u003e\u003cspan\u003e\u003c\/span\u003e\n\u003c\/div\u003e\n\u003cdiv\u003e\n\u003cspan\u003e\u003c\/span\u003e\u003cbr\u003e\n\u003c\/div\u003e\n\u003cdiv\u003e\u003cspan\u003ePRODUCT DETAILS\u003c\/span\u003e\u003c\/div\u003e\n\u003cdiv\u003e⚙️ Heavy-duty\u003cspan data-mce-fragment=\"1\"\u003e zinc buckle\u003c\/span\u003e\n\u003c\/div\u003e\n\u003cdiv\u003e🍁 Strong Hemp fibers\u003c\/div\u003e\n\u003cdiv\u003e\u003cspan data-mce-fragment=\"1\"\u003e📏 Adjustable strap length\u003c\/span\u003e\u003c\/div\u003e\n\u003cdiv\u003e\u003cspan data-mce-fragment=\"1\"\u003e🌱 100% natural materials\u003c\/span\u003e\u003c\/div\u003e\n\u003cdiv\u003e\n\u003cdiv\u003e\n\u003cdiv data-hveid=\"CEQQAQ\" aria-expanded=\"true\" aria-controls=\"_1rt0ZLPVA4ehkdUPhrKU2As_45\" class=\"dnXCYb\" role=\"button\" tabindex=\"0\" data-mce-tabindex=\"0\" jsname=\"tJHJj\" jsaction=\"AWEk5c\"\u003e\n\u003cdiv class=\"JlqpRe\" jsname=\"lN6iy\"\u003e\u003cspan class=\"JCzEY ZwRhJd\"\u003e\u003cspan class=\"CSkcDe\"\u003e🔵 Made in Europe\u003c\/span\u003e\u003c\/span\u003e\u003c\/div\u003e\n\u003cdiv class=\"aj35ze\" jsname=\"Q8Kwad\"\u003e\u003cbr\u003e\u003c\/div\u003e\n\u003cdiv data-ved=\"2ahUKEwizmJy545r_AhWHUKQEHQYZBbsQuk56BAhEEAI\" class=\"L3Ezfd\" jsname=\"pcRaIe\"\u003e\u003cbr\u003e\u003c\/div\u003e\n\u003c\/div\u003e\n\u003c\/div\u003e\n\u003cdiv data-ved=\"2ahUKEwizmJy545r_AhWHUKQEHQYZBbsQ7NUEegQIRBAE\" id=\"_1rt0ZLPVA4ehkdUPhrKU2As_45\" class=\"bCOlv\" jsname=\"NRdf4c\"\u003e\n\u003cdiv class=\"IZE3Td\" jsslot=\"\"\u003e\n\u003cdiv data-ved=\"2ahUKEwizmJy545r_AhWHUKQEHQYZBbsQu04oAHoECEQQBQ\" data-hveid=\"CEQQBQ\" class=\"t0bRye r2fjmd\" jsname=\"oQYOj\"\u003e\n\u003cdiv id=\"1rt0ZLPVA4ehkdUPhrKU2As__72\"\u003e\n\u003cdiv data-md=\"61\" class=\"wDYxhc\"\u003e\n\u003cdiv data-hveid=\"CEEQAA\" role=\"heading\" aria-level=\"3\" data-attrid=\"wa:\/description\" class=\"LGOjhe\"\u003e\u003ca data-ved=\"2ahUKEwizmJy545r_AhWHUKQEHQYZBbsQFnoECDIQAw\" href=\"https:\/\/emojiguide.com\/symbols\/blue-circle\/\" data-mce-href=\"https:\/\/emojiguide.com\/symbols\/blue-circle\/\" ping=\"\/url?sa=t\u0026amp;source=web\u0026amp;rct=j\u0026amp;url=https:\/\/emojiguide.com\/symbols\/blue-circle\/\u0026amp;ved=2ahUKEwizmJy545r_AhWHUKQEHQYZBbsQFnoECDIQAw\" jsaction=\"rcuQ6b:npT2md\" jsname=\"qOiK6e\" jscontroller=\"M9mgyc\"\u003e\n\u003ch3 class=\"LC20lb MBeuO DKV0Md\"\u003e\u003cbr\u003e\u003c\/h3\u003e\n\u003c\/a\u003e\u003c\/div\u003e\n\u003c\/div\u003e\n\u003c\/div\u003e\n\u003cdiv id=\"1rt0ZLPVA4ehkdUPhrKU2As__73\"\u003e\n\u003cdiv class=\"g\"\u003e\n\u003cdiv data-ved=\"2ahUKEwizmJy545r_AhWHUKQEHQYZBbsQFSgAegQIMhAA\" data-hveid=\"CDIQAA\"\u003e\n\u003cdiv class=\"tF2Cxc\"\u003e\u003cbr\u003e\u003c\/div\u003e\n\u003c\/div\u003e\n\u003c\/div\u003e\n\u003c\/div\u003e\n\u003c\/div\u003e\n\u003c\/div\u003e\n\u003c\/div\u003e\n\u003c\/div\u003e\n\u003cdiv\u003e\u003cbr\u003e\u003c\/div\u003e\n\u003cdiv\u003e\u003cbr\u003e\u003c\/div\u003e\n\u003cdiv\u003e\u003cbr\u003e\u003c\/div\u003e\n\u003cdiv\u003e\n\u003cspan\u003e\u003c\/span\u003e\u003cbr\u003e\n\u003c\/div\u003e"}