The grandma and grandson hemp shoe duo
Posted at 11:00 • 28th Dec • Bernardo Carreira• Hemp
---
You're never too old to start a company, and Maria Otilia is the proof! She was enjoying her retirement when her grandson invited her to create the world's 1st waterproof hemp shoes.
8000Kicks hit the market in 2019, but the story of how it started dates back to 2018 (DopeKicks back then) – when Carreira returned from his studies at Purdue, where he studied business. As he settled back into his hometown neighborhood in a humble community, he decided to start a business with his grandmother. She had over 50 years of experience in assembling material used in the textile industry, which proved to be a significant boost in R&D and time to market.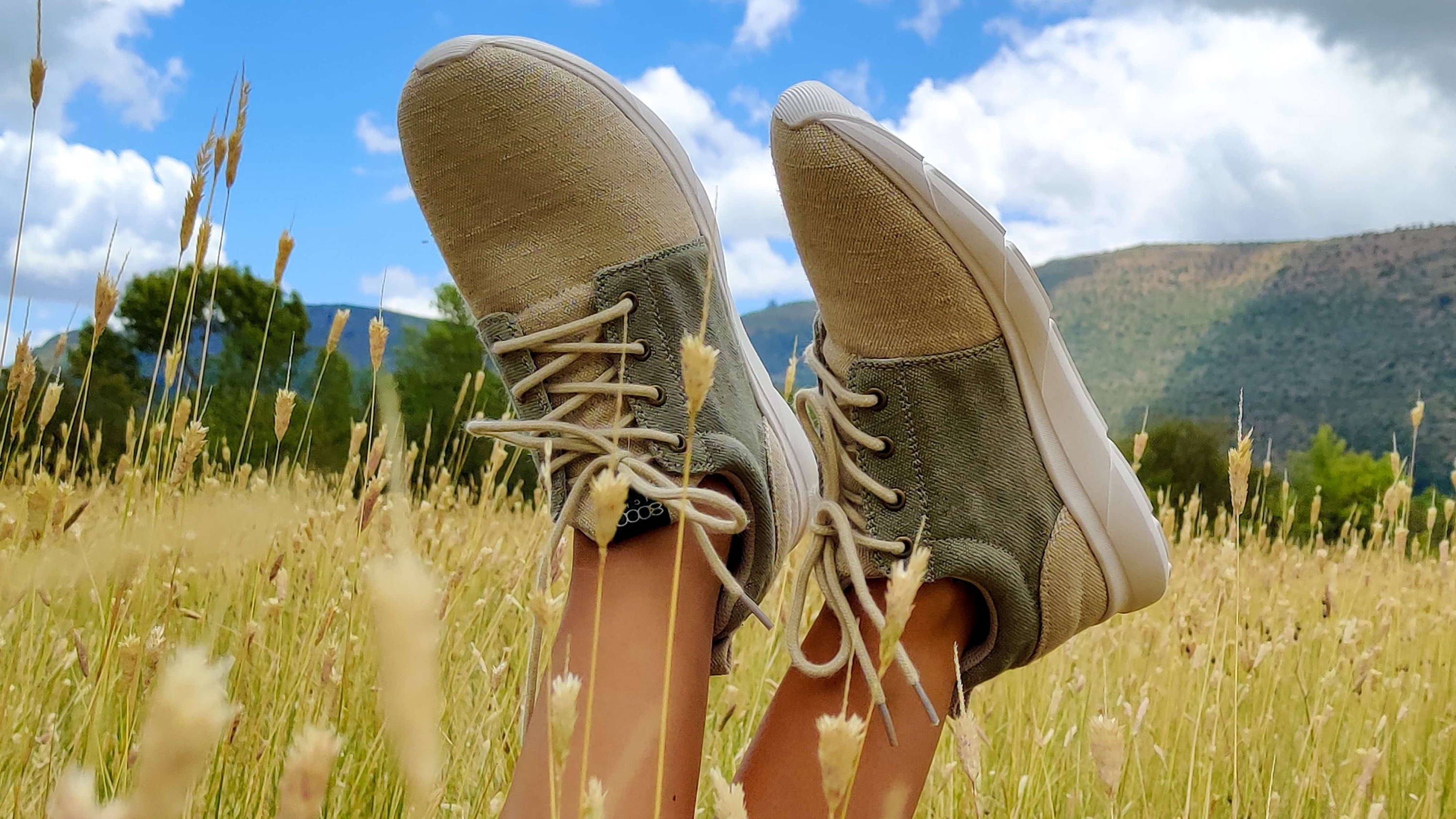 What started as a joke quickly became serious as more and more people started asking for pairs. But the problem was still the huge minimum orders the hemp millers required to move forward with production. "We had no money and no experience, so we went to the only place where they would take two dreamers like us, Kickstarter!", says Bernardo the co-founder.
The campaign was ready and the goal was for $10,000, but something went wrong... the team raised $250k instead. With no capacity to fulfil orders, the team called the "big guns" and all family and friends came to the to rescue down at the factory floor.
So what's special about these shoes?
The shoe features are directly related to their selection of materials, most precisely to the fact that they picked hemp fiber to build the shoes. So what makes this product different:
Super Durable - Hemp was once used to make ropes, ship sails, and even some of Ford's cars.
Super comfortable - introducing the world's 1st hemp insole.
Ecological - because they use a hemp upper instead of cotton/polyester, the shoe fibers needs 70% less water and emits 72% less CO2.
Vegan and biodegradable - the shoe is made from vegetal fibers including it's glue that is made from water.
Waterproof - a double layer consisting of a waterproof membrane plus a coating that protects all liquids from coming in.
Anti bacterial - a natural properly of hemp fiber
Lightweight and flexible- a unique algae outsole that makes the shoes lighter than a phone.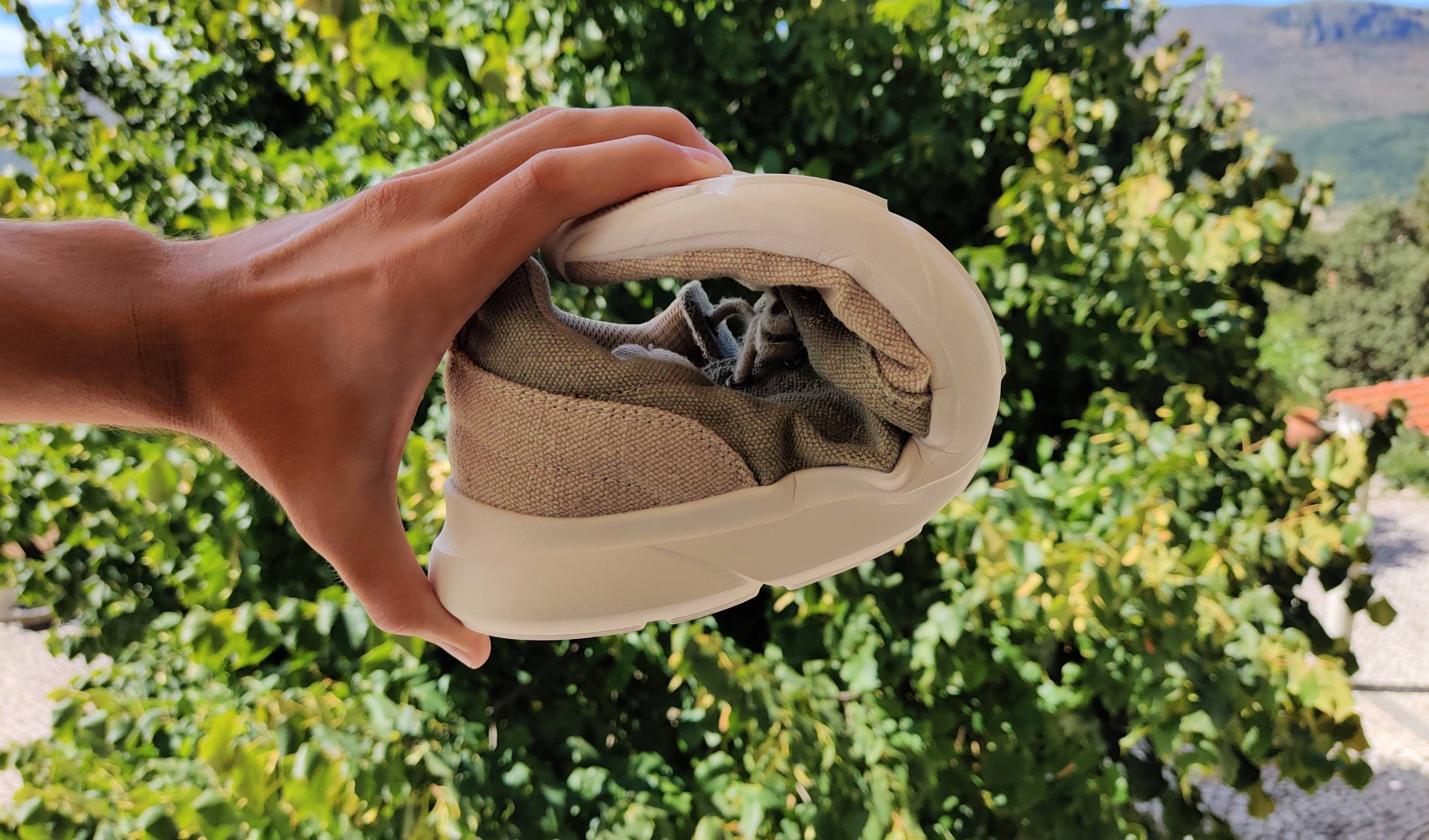 For example, a running shoe made of plastic has a carbon footprint of between 16 and 20 kg of CO2. 8000Kicks shoe is just 4.1kg, which is considerably smaller. Because hemp naturally captures CO2, there's already a lot of CO2 that has been removed from the atmosphere even before the shoe starts being made.
Hemp is way better for the planet than most materials and that's why I managed to get my grandma onboard. Initially she wanted to kick me out as she thought it was a drug. 
Bernardo Carreira, the grandson and co-founder
The duo lives in the countryside and they wanted to make something for the active person, the challenger, the traveler, something that could provide the best experience under any conditions, and that's why they built it waterproof. To guarantee that no water would come in, a natural wax coating and a special waterproof membrane were added, providing a total of 2 layers of protection.
8000Kick took almost 1 year to source and develop the most durable hemp hemp fibers available. But the innovation is not only in the outer fabric. 8000Kicks has developed the world's 1st Hemp insoles, which are naturally anti-bacterial and anti-microbial. A feature that Otilia insisted having because she has sweaty feet and odor problems.
Another incredible feature is the outsoles that are made from algae. 8000Kicks partnered with Bloom Foam to create a special algae plastic that is super lightweight. Each shoe is only 0.134Lbs or 60grams.
You might be wondering where you can get a pair and they are exclusively available on their website because of high demand. According to Otilia, which specializes in the textile part, "The hemp sourcing is the most challenging because hemp crops are harvested only in the summer, then our suppliers need to process the fiber, spin the yarn, woven the fabric to our specific requirements, and only then we are ready to make the shoes".
After a period of no shoes, 8000Kicks relaunched again this 30th of September, with new colors and new hemp products. You can now can get a pair of kicks for $135 or a pair of hemp socks for $14.
---