The best sustainable shoe brands compared
Posted at 11:00 • 28th Dec • Bernardo Carreira• Hemp
---
Being sustainable comes in many forms and shapes. Out of hundreds of options available in the market, we picked the most notorious in each category and we compared them all.
Being sustainable comes in many forms as shapes and when putting together this article we had to compare brands using common metrics. The names listed above are known for its supply chain transparency and by their growing adoption in the market because of how different their products are. We are aware that there are many other brands out there, but we decided to focus on these 9 alone because they are the most influential in their category.
Materials: this is directly related to what type of shoe they are and what type of impact they bring to the world. We have some brands focusing on recycling plastics and we have some other brands focused on natural materials.
Trust Pilot: There are many online review websites. Trust Pilot is the Golden standard of reviews, the Trip Advisor of products and services. And the main reason is because it is independent and free, unlike other websites where reviews are curated by brands.
Carbon Footprint: The Carbon Footprint consists of the amount of CO2 sent to the atmosphere while manufacturing/doing something. Every shoe has one from the moment they turn on a machine, ship a package or simply by raising cattle. Here's some examples:
4Kg of CO2 - Driving a car for 13 miles.
340Kg of CO2 - Economic flight ticket from LA to Austin
Carbon Offset initiatives: Since every brand sends emissions to the atmosphere, they must do its share to capture back that CO2. One example is by investing in big filters, another is by planting trees that can absorb up to 50KG of CO2 per year.
Vegan Brand: Although in some cases animal products like leather and wool can be sourced from sustainable sources, it is undeniable that as production grows, there is always going to be animal suffering of some sort.
Price range: Not all wallets are created equal, and price defines the value range on the website.
Sustainable shoe brands compared

This is probably the best startup story you heard in a while… Bernardo, the co-founder, moved back to Portugal in 2017 to start a new project, but he didn't know exactly what. One night, after a few beers with the boys, someone came up with the idea of making a shoe for smoking. It was an awful idea, or maybe not. Bernardo decided to give it a shot since he had seen some bags and wallets made of cannabis before. He asked the most unlikely person for help: Otilia, his grandmother, with over 50 years' experience in textiles. Together, they spent over 1 year actively working with suppliers from around the world until what is now the World's 1st waterproof hemp shoe.

The project was a huge success and raised over 250k on kickstarter on the first year. In the second year, they sold out 3 times.

The reality is that 8000Kicks is a big evolution within the plant based shoe category, not only because it's upper is made of hemp but also because it has the world's 1st hemp insoles, and it even has outsoles made of harmful algae plastic collected from algal blooms. The packaging is also plant based, recycled cardboard and corn starch. And as if this ecological power wasn't enough, they are also waterproof.

The brand has achieved immense success as they are disrupting the sustainable shoe category with the introduction of hemp. Besides making a great product, they are also planting trees all around the world and working to offset the carbon footprint generated by shipping and manufacturing.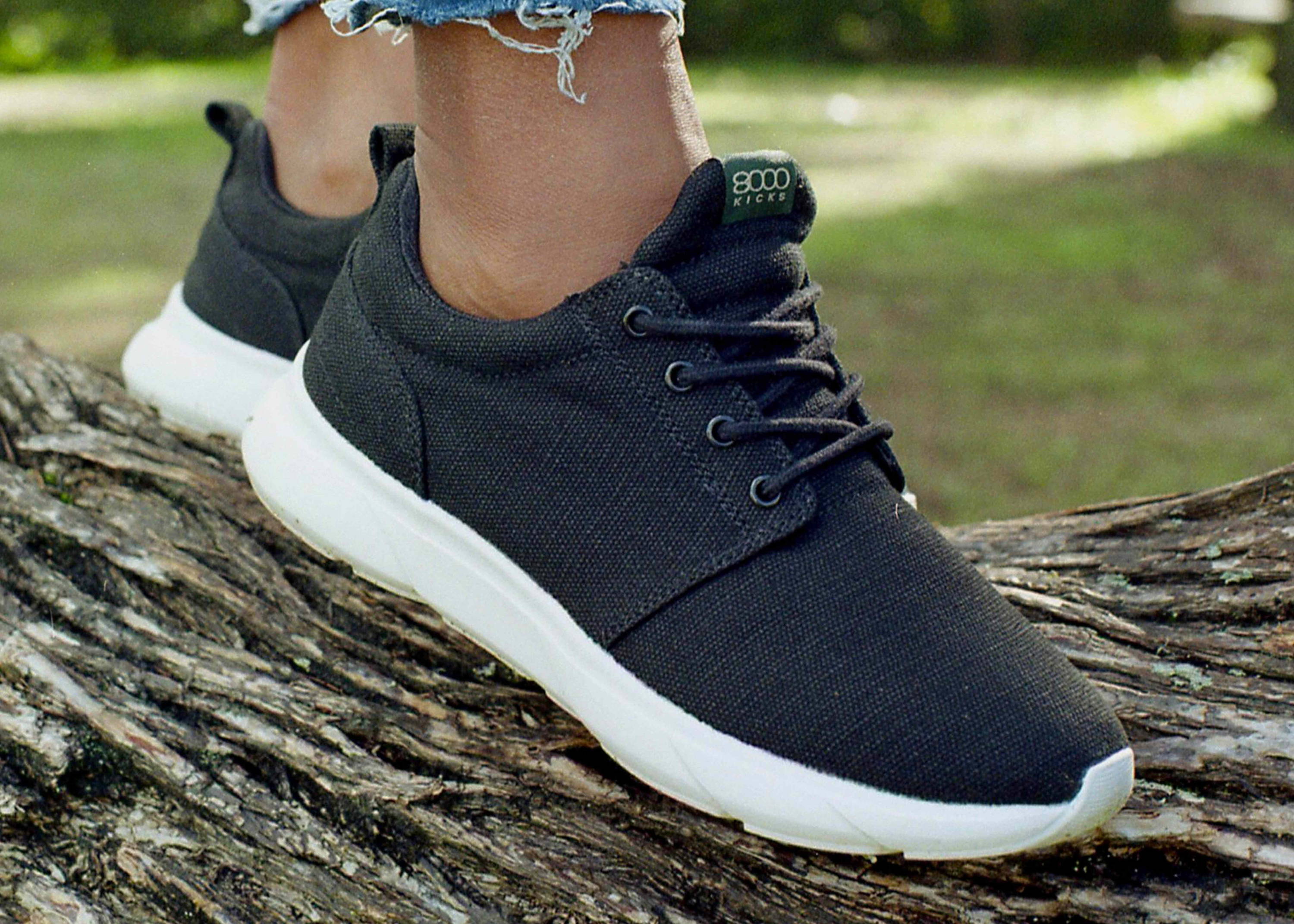 There are no animals involved in the production of Rothys shoes and there are no plants either. They are well known for its flat women's shoes made out of recycled PET plastic, which they transform into polyester and their famous knit fabric patterns.
Rothy's grew pretty fast as the accessory du jour for fashionistas around the world who want to not only look but also respect the environment.
According to them, they've recycled over 20 million plastic bottles to create fashionable footwear for women. Recently they have expanded their product lines, including accessories and men's shoes. However, please note that not all Rothy's products are vegan as they have recently added new products with merino wool.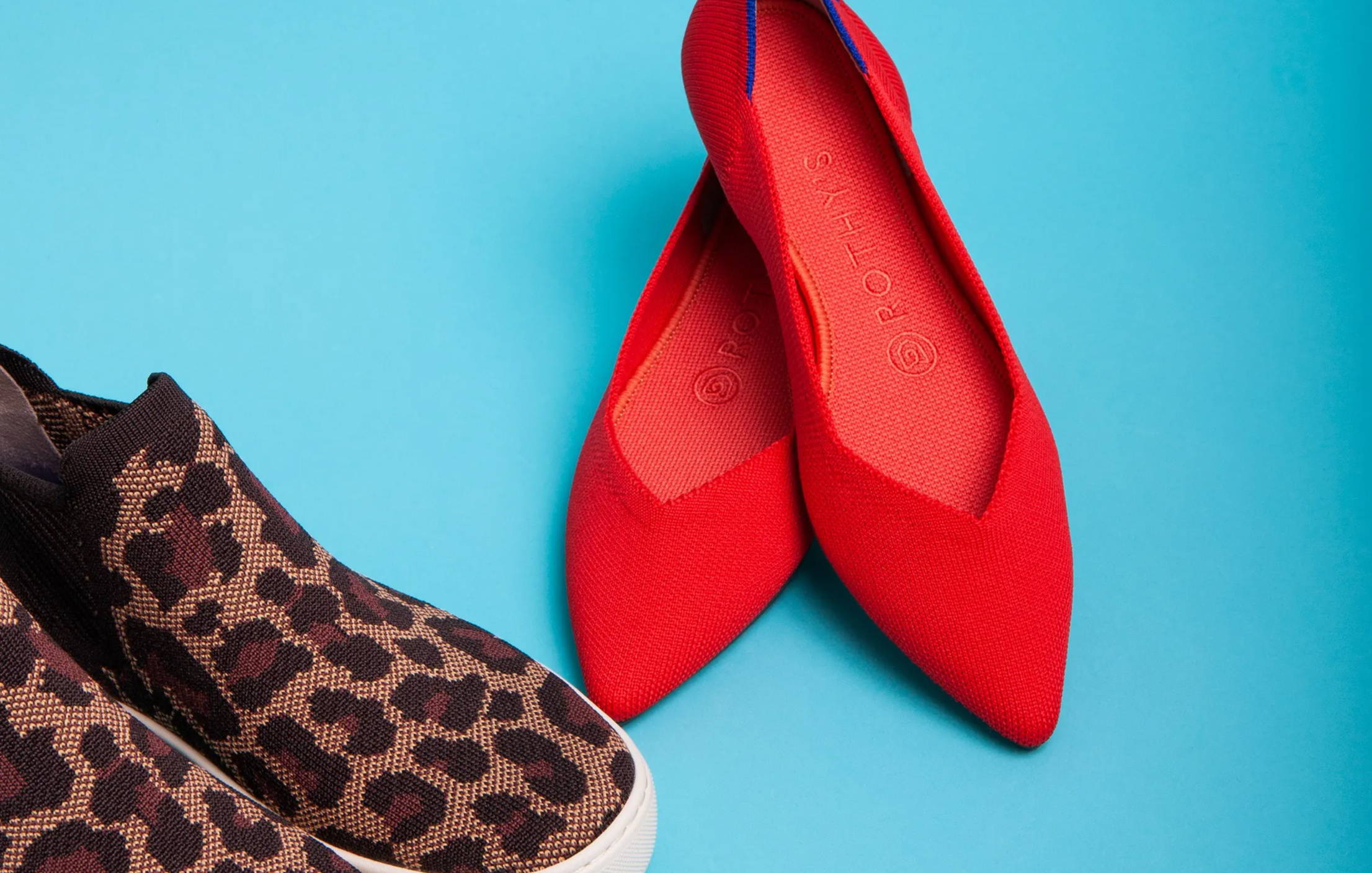 Veja shoes are made with genuine corn leather which took them 5 years to research and develop.

The best sellers come in a white design with the iconic "V" logo stitched on the side, which is available in every color from basic black to neon yellow. Veja, was one of the first sustainable sneaker brand in the world, making way for other popular kicks like Allbirds. There's no denying that the French footwear brand that sells over two million pairs of sneakers per year—has achieved a big growth explosion in the recent years.

Nonetheless, as stylish as it may be, when it comes down to it, leather will never be the most comfortable material for a pair of shoes. Even the world's highest quality leather couldn't compete with the worn-in comfort of canvas or cotton. Veja offer great support and a well-cushioned footbed, but they're lacking in flexibility and freedom of movement due to the somewhat stiff leather exterior.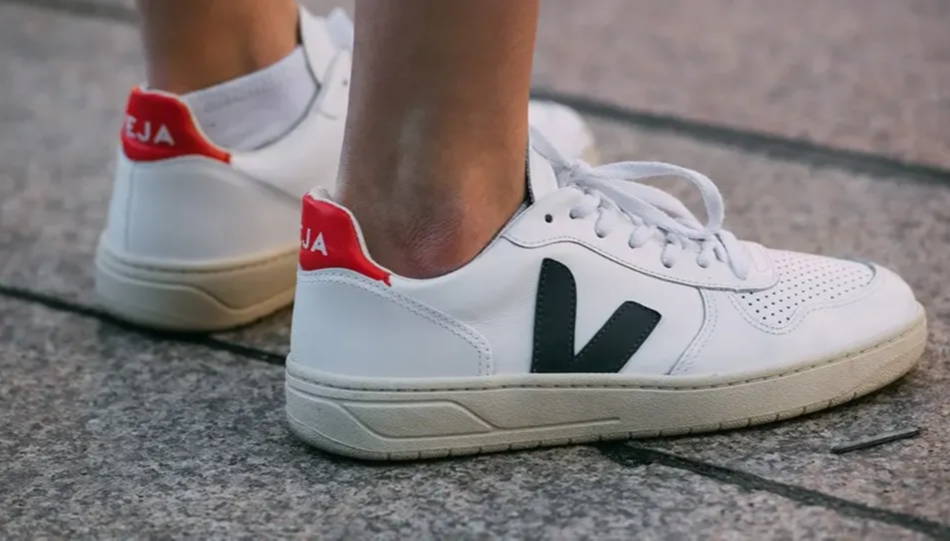 Nae Vegan stands for "No Animal Exploitation" and they are a Portuguese vegan footwear brand that aims to provide animal-friendly shoes, being an ethical and totally environmentally friendly brand.

Their shoes contain materials made from cork, pineapple and other recycled materials like airbag, plastic bottles and synthetic materials such as microfibers which are natural, breathable and totally unique!
They have a lot of unisex shoes including loafers, brogues, dress shoes and trainers, which are all super unique and ethical.

As for the comfort and fit, customers online have stated that it fits true to size, but it might be slightly too snugly around the feet. When this article was written they were shipping internationally from Portugal, which might be a bit annoying to customers in USA or CANADA, especially if they need exchanges.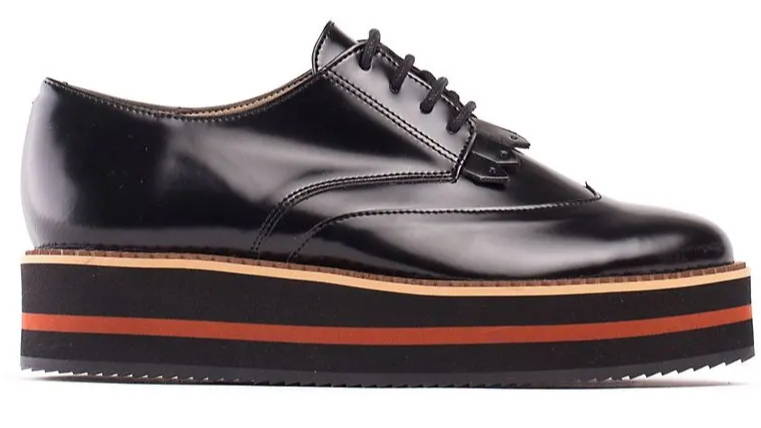 NATIVE SHOES started way back in 2007 when some crazy Canadians went snowboarding together in Canada. It was on that trip that NATIVE SHOES founder Damien van Zyll de Jong first voiced his idea to start a footwear brand. Two years later Native Shoes was born in Vancouver.

The first versions of Native Shoes were made from EVA and were wildly successful. The company has continued to innovate and is an acknowledged powerhouse in the sustainable and vegan footwear world.
When it comes to sustainability, almost all of NATIVE SHOE's models are made with synthetic materials used in their shoe production are, such as phthalate-free and BPA-free, not containing any and don't contain formaldehyde.

They use 100% recycled materials for their packaging and implement an efficient manufacturing process that produces little to no waste.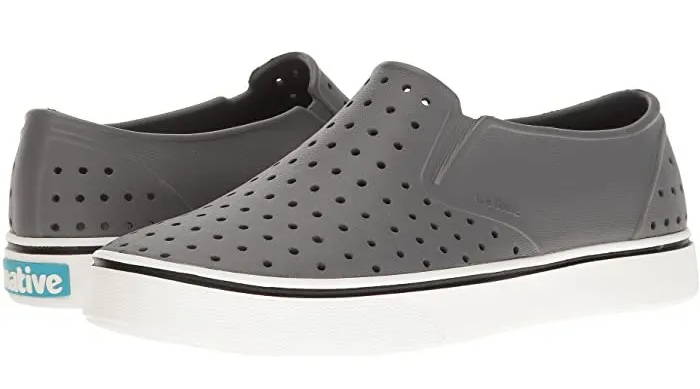 While recycled knits account for a big part of the sustainable shoe market, Tread by Everlane is for those who still appreciate quality leather. With 94.2% non-virgin plastic soles, leather sourced from some of the world's cleanest tanneries, and laces and linings made from recycled plastic bottles, The Trainer is touted (by its maker, mind you) as the world's lowest-impact sneakers.

Even if you aren't a particularly conscious consumer (although you should be), Tread by Everlane has great appeal. Its style lends itself well to minimalists and lovers of that cut-and-sewn look found on retro running sneakers.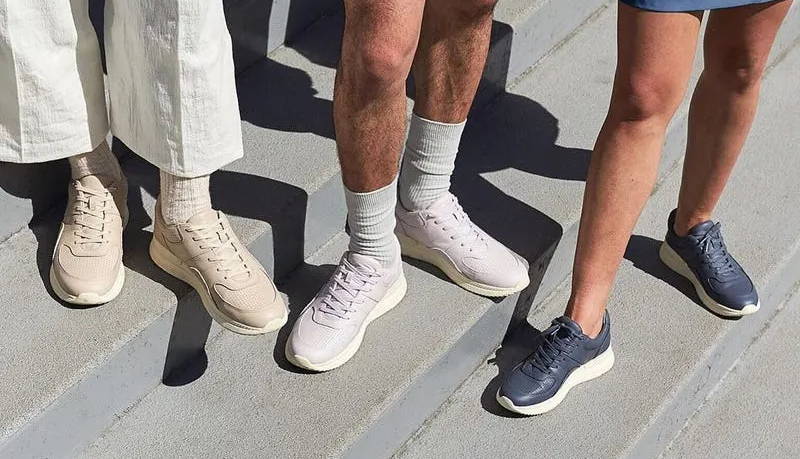 As the brainchild of New Zealand native Tim Brown and San Francisco-based renewables expert Joey Zwillinger, Allbirds is the wildly popular sneaker startup you've seen all throughout Silicon Valley and New York City. In the first four years, the brand reached a $77.5 million valuation.

The brand's shoes are made with merino wool or eucalyptus trees for the uppers and sugar cane for the Sweet Foam soles. They even made the patent on their Sweet Foam material public so that other brands could utilize it as a sustainable alternative. Recycled plastic and castor bean oil also make their way into the inner-workings of the shoes. Allbirds even uses 90% post-consumer recycled cardboard for packaging that serves as a shoe box, shopping bag, and mailer all in one.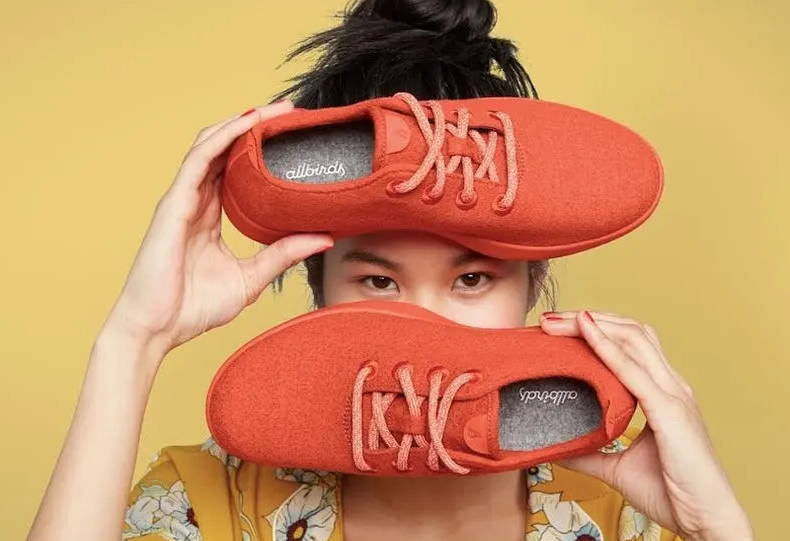 Founded in 2014 by Ryan Babenzien and footwear designer Jon Buscemi, Greats began as an affordable alternative to the luxury sneaker market. The brand's signature style, The Greats Royale, features premium leather, is manufactured in Italy, and only costs $179 — which far less than comparable high-end sneakers.

In efforts to be more eco-friendly, Greats redesigned the silhouette with a recycled plastic knit upper. Seven plastic bottles go into making each pair of Royale Knit sneakers, and in the initial production run alone, Greats removed 75,000 bottles from the ocean.

In addition to the recycled plastic uppers, Greats uses recycled materials to produce the shoe boxes and packaging.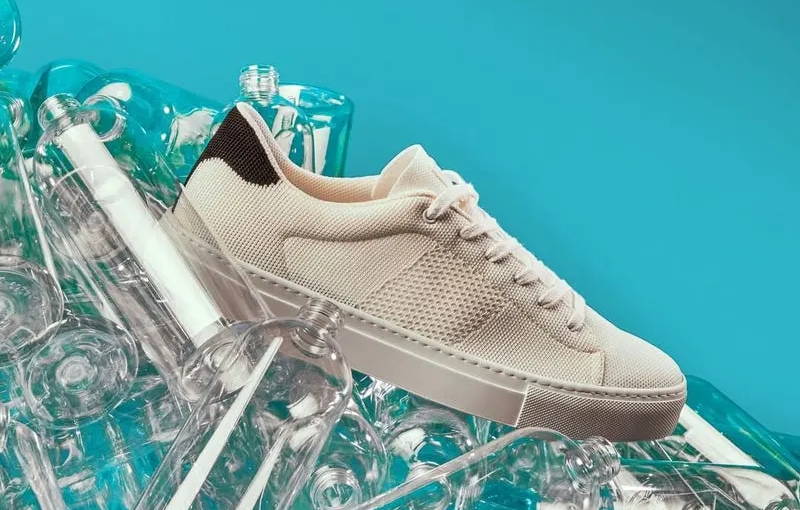 Founded in Rio de Janeiro, Brazil, Cariuma is a sneaker brand that focuses on sustainability. The brand handmakes its sneakers using high-quality natural materials including organic, fair-trade cotton, natural rubber from hevea brasiliensis trees, and leather from gold-rated tanneries using hides sourced from areas that weren't deforested for cattle farming.

The brand ships its shoes directly in the shoebox, which eliminates the need for wasteful packaging. It also makes up for the carbon emissions associated with shipping products with DHL green shipping, which brings its shipping carbon footprint down to zero.

Cariuma's sneakers have an old school look, but with modern comfort.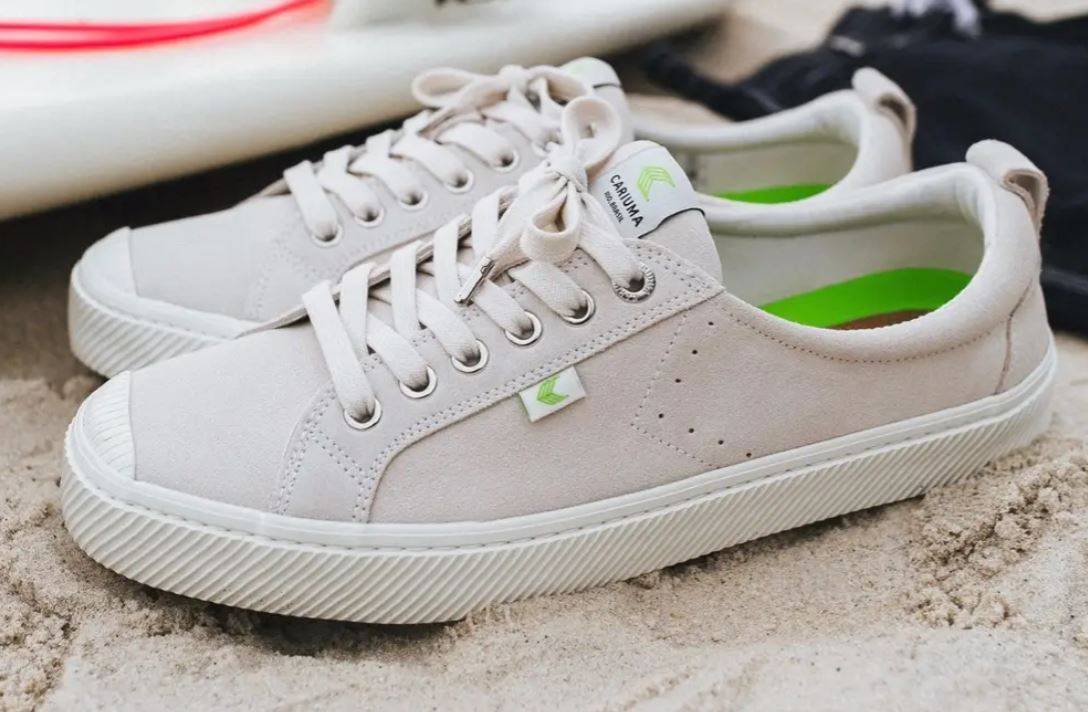 Conclusions on best sustainable shoe brands
What you put on your feet matters! But your style and budget also matter.

Each option above is different, some are plant based focused, like 8000Kicks, others are focused in recycled plastic, like Rothy's, and others vegan leather alternatives, like NAE. Then you have options that are more expensive and fashionistas options, like GREATS, and others that are more affordable and focus on comfort, like 8000Kicks again.

We understand what made you google for the best sustainable shoe brand out there, as we mentioned above, we could easily build this list to over 100 references. In the end not all brands have the same impact, but it is up to you to pick the style, budget and value you want to create for the planet.

---