The last boots you will ever need!

Posted at 11:00 • 08th Feb • Sara Guerreiro • Hemp
---
Super strong hemp fiber🌲, 100% Vegan and carbon neutral, water and dustproof, 5x stronger than cotton 💪, super comfortable hemp insoles ☁️, and rugged soles. These are the new killing boots by 8000Kicks.
After months and countless prototypes later, 8000Kicks is proud to bring another hemp product to life, a new model of hemp shoes, with an improved hemp fabric that is more durable, more waterproof and with a stronger color dye.
The hemp company launched its new hemp chelsea boots through a Kickstarter campaign on the past 7th of February where backers can buy one pair for up to 35% off.
Introducing the Crossover… The 1st waterproof hemp boots
The company has grown its accessories range with a new waterproof hemp boots that can be used anytime and anywhere. The new boots sit alongside 8000kicks casual hemp shoes and backpacks and come in a single model with 2 colors - dark brown and black. The boots were designed to offer a balance between protection against the elements, functionality, style and design.
Why hemp?
While hemp is closely associated with marijuana, the boots are not for smoking and they will not get people"high". Hemp is the "sober cousin" of marijuana. It has a minimal amount of psychoactive components, and for that reason, it is legal everywhere in the world.
Hemp is nature's purifier. It's a unique crop that can help shape a better future for generations to come:
The plant captures carbon dioxide from the atmosphere. In fact, for every tonne of hemp fiber produced, 1.63 tonnes of carbon is removed from the air, making hemp a much more effective sequester of carbon dioxide than trees;

One acre of hemp will produce as much fiber as two acres of cotton.

It helps nourish nutrient-depleted soil and reverses the effects of erosion.

Hemp doesn't require herbicides or pesticides.

Hemp is one of nature's strongest fibers and it was used by Henry Ford to build cars.

It is naturally anti-bacterial and anti-microbial;
"Our mission is to bring back hemp by showing everyone hemp products are way superior to other products made in other fibers. This is the green answer we have been waiting for". Says, Bernardo the CEO and co-founder of 8000Kicks.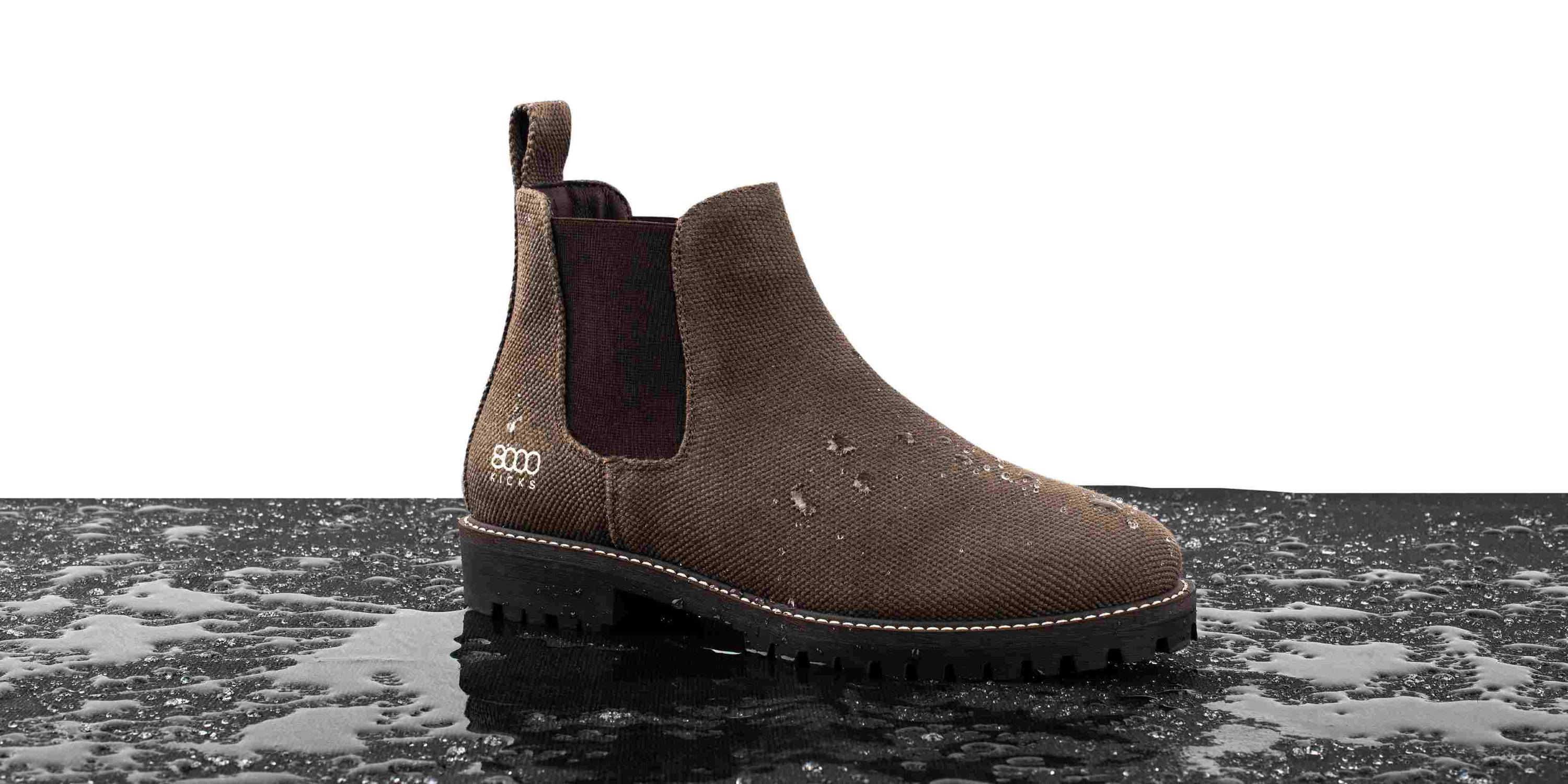 Waterproof and Dustproof
But there's more than hemp to it. One of the key uniquenesses of this boot is the fact that it is water and dustproof.
Whether in a drizzly city, about to hike a misty rainforest or preparing for walk on the beach, these weatherproof boots will keep your feet nice and cozy.
For over 2 years the 8000Kicks team has been working on this boot and its waterproofing features. The outer hemp layer has been coated with a proprietary organic wax that protects the fabric from stains, liquids and dust particles. On the hemp inner side, just below the fabric there's a waterproof membrane that guarantees maximum protection and that no liquids will come in. The elastics are also made of top quality elastane with hydro-guard technology.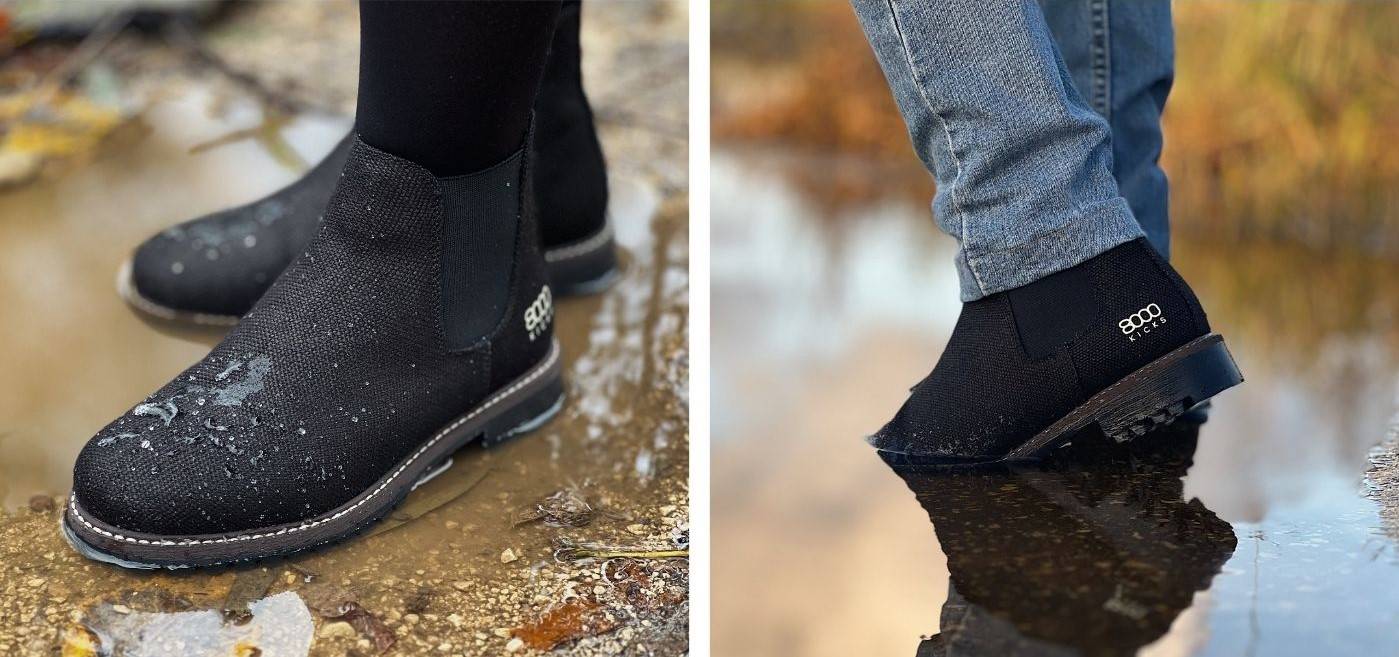 Unseen comfort and temperature control
One of the great properties of hemp fibers is the natural insulating capacity, and that's why it is coming up as a construction material. By using hemp uppers and hemp insoles the boots are able to keep feet nice and cozy in the cold winter days.
Another great property of this natural fiber is the fact that it is naturally anti bacterial. Unlike cotton, it does not absorb humidity and does not retain sweat, reducing the ammount of bad smell inside the boots.
Made in Portugal
The 8000Kicks team puts great epmhasis on the fact that their boots come from Portugal. "When making our products, we source not only the best materials, but also the best people to make sure you have nothing but the best boots on your feet." says once again, Bernardo and his grandma Otilia that founded the business back in 2019.
By buying 8000Kicks, customers are buying the same craftmanship of $500 premium boot brands for a fraction of the cost, and that's because by selling on kickstarter directly to customers, they are able to cut intermediaries and sell with a more competitive price.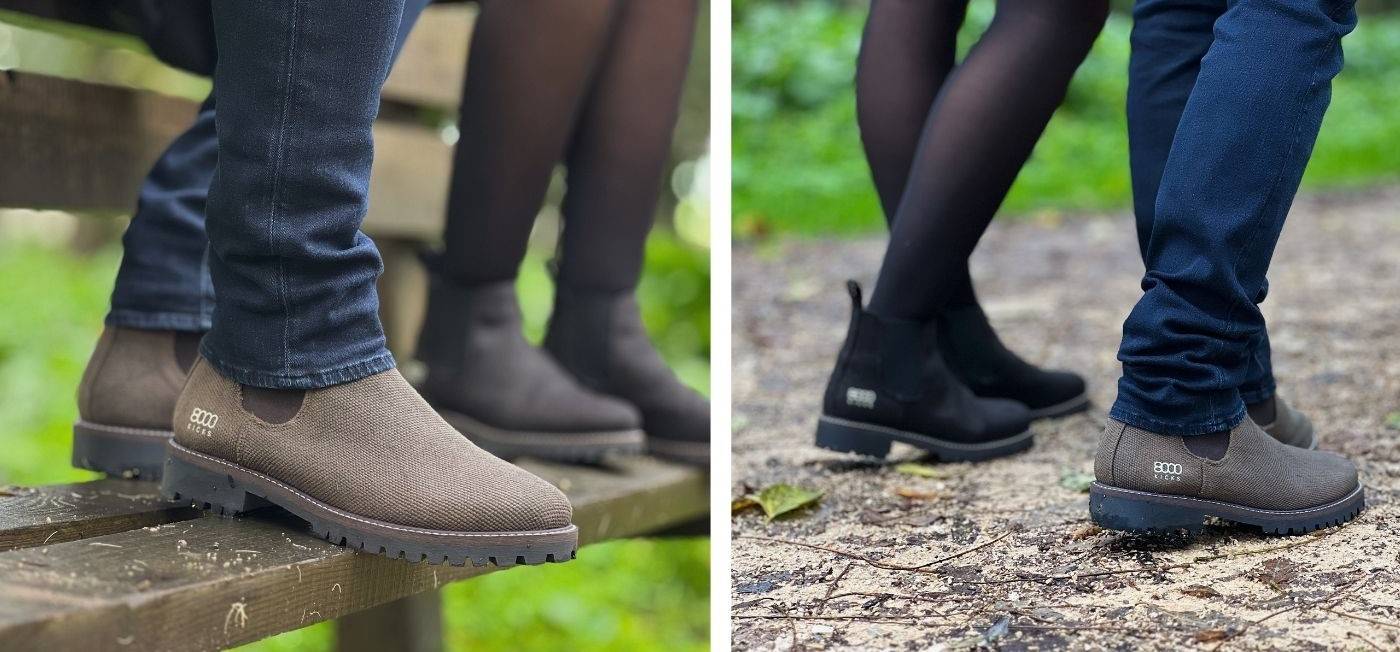 Live on kickstarter on February 7th
The new Crossover hemp boots launched on kickstarter on feb 7th can be bought for up to 35% off, that's $129 instead of $199, which they will retail for once live. The campaign lasts for 2 months and it will take another 4 months to manufacture the boots, with expected delivery in August.
Get your premium hemp boots now for 35% off on kickstarter.
Product Details
Introducing the Everyday hemp boots by 8000kicks, waterproof and durable for the weekend, stylish and minimalist for the week. The last boots you will ever need.
💦 Waterproof (PFC free)
💪 Durable Hemp fibers
🍁 World's 1st Hemp Insoles;
🌱 100% vegan;
🥾 Rugged rubber soles;
🔴🟢 Made in Portugal;
Contact Person:
Name: Bernardo Carreira
Product: 8000Kicks
Phone: +351 918180112
Email: mail@8000kicks.com    
Campaign: Kickstarter page
Press Kit: https://drive.google.com/drive/u/1/folders/1kWaXtVBsdNjSIQXo5EOLZbxIoNhNIkf3 
---