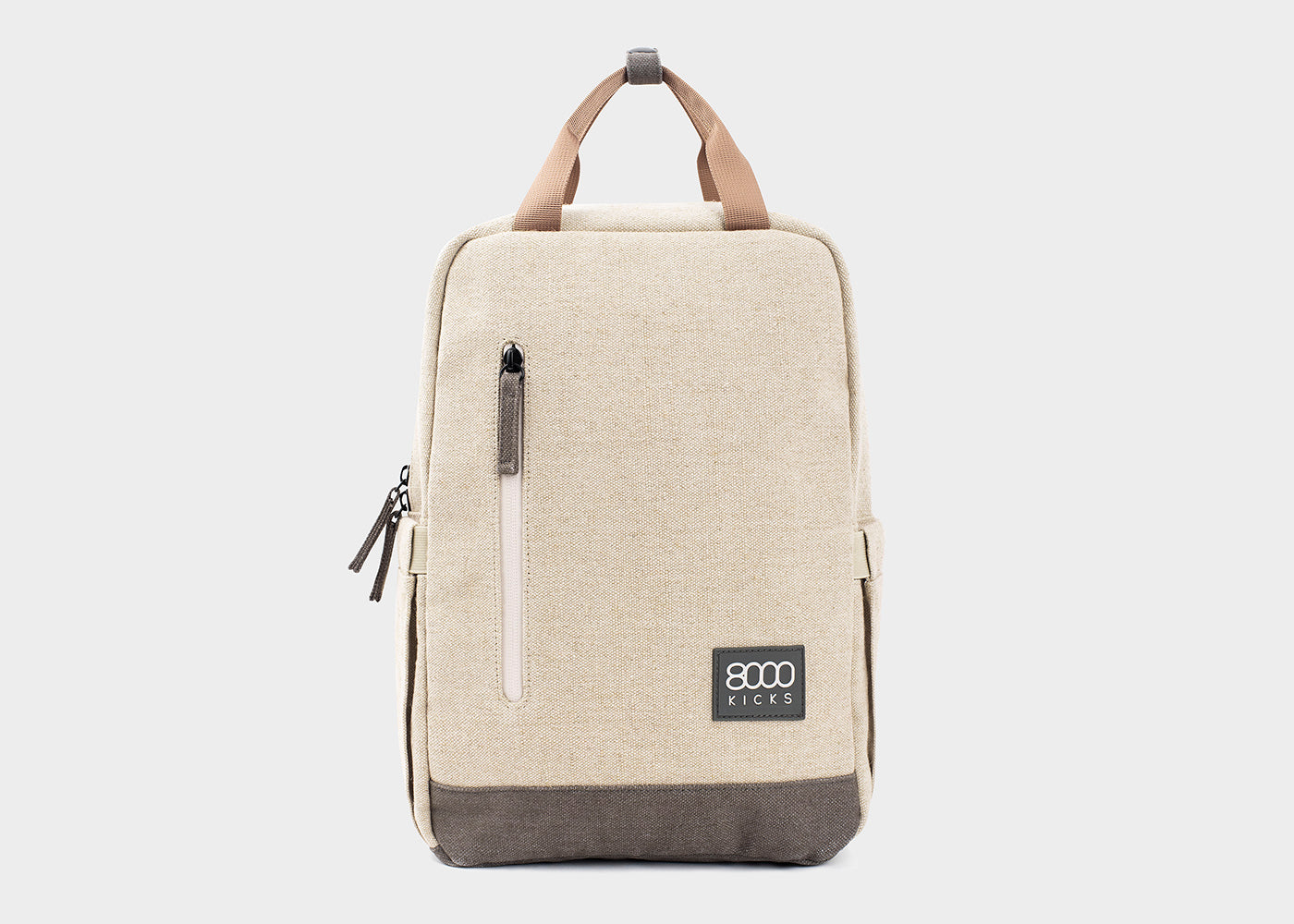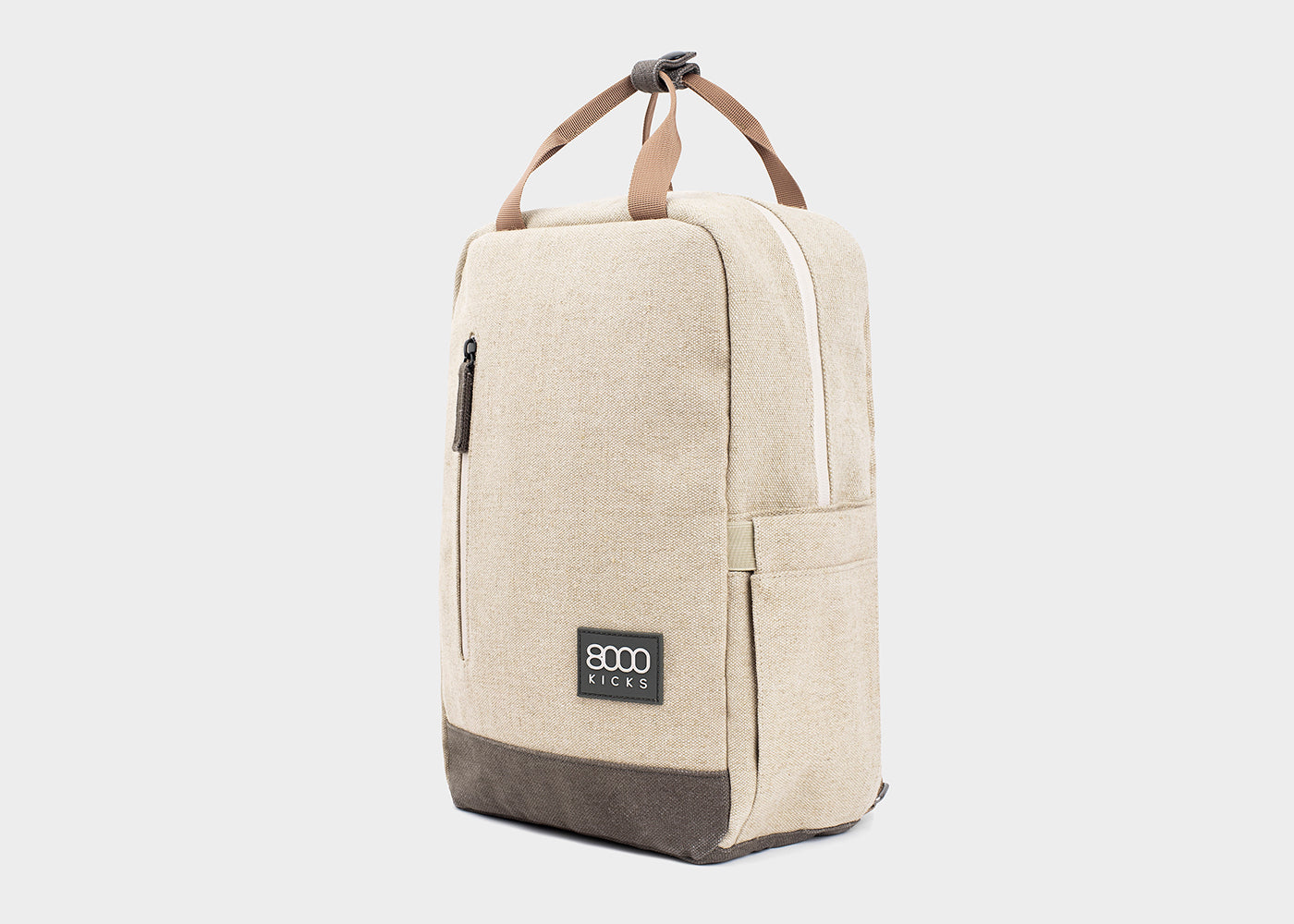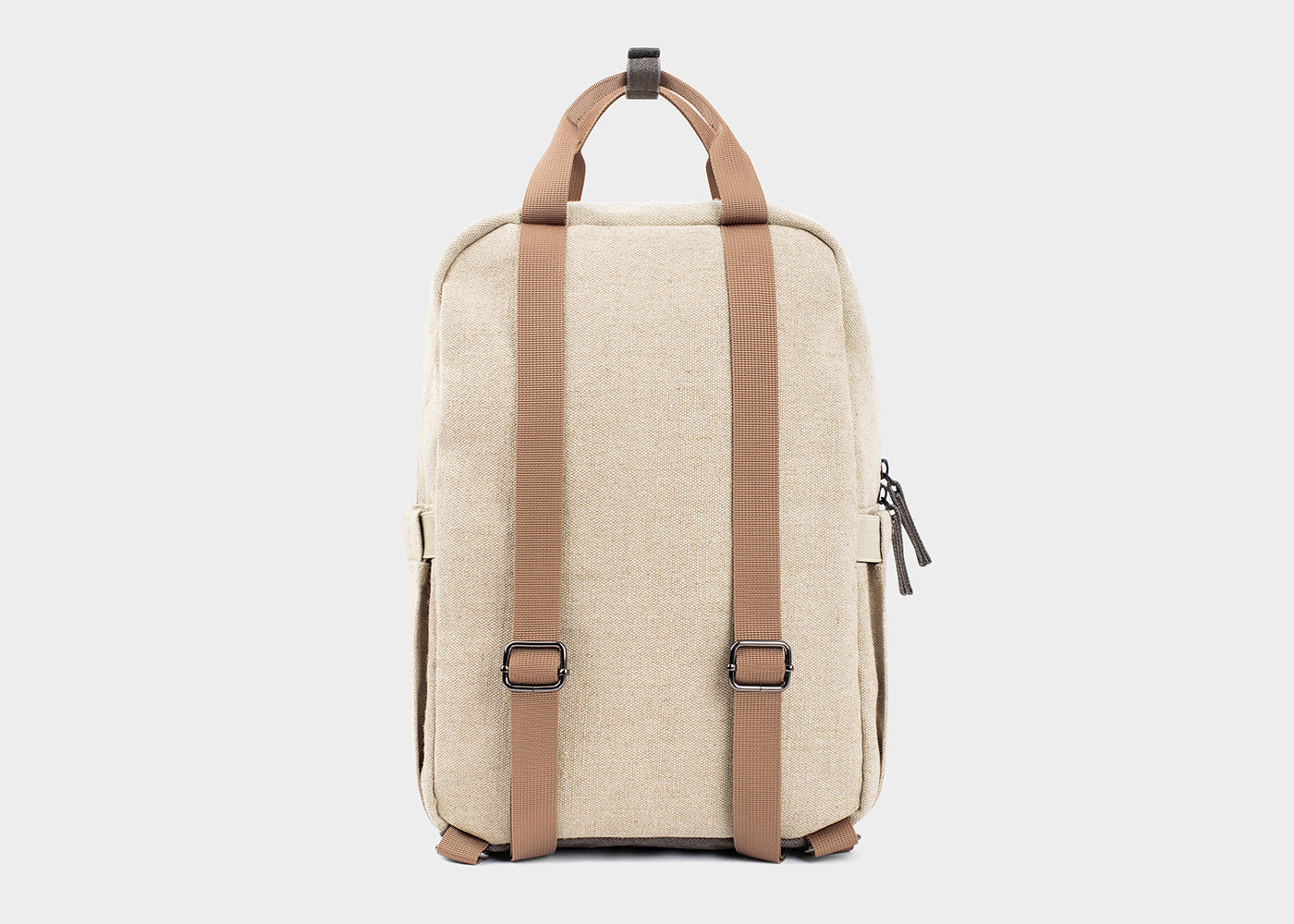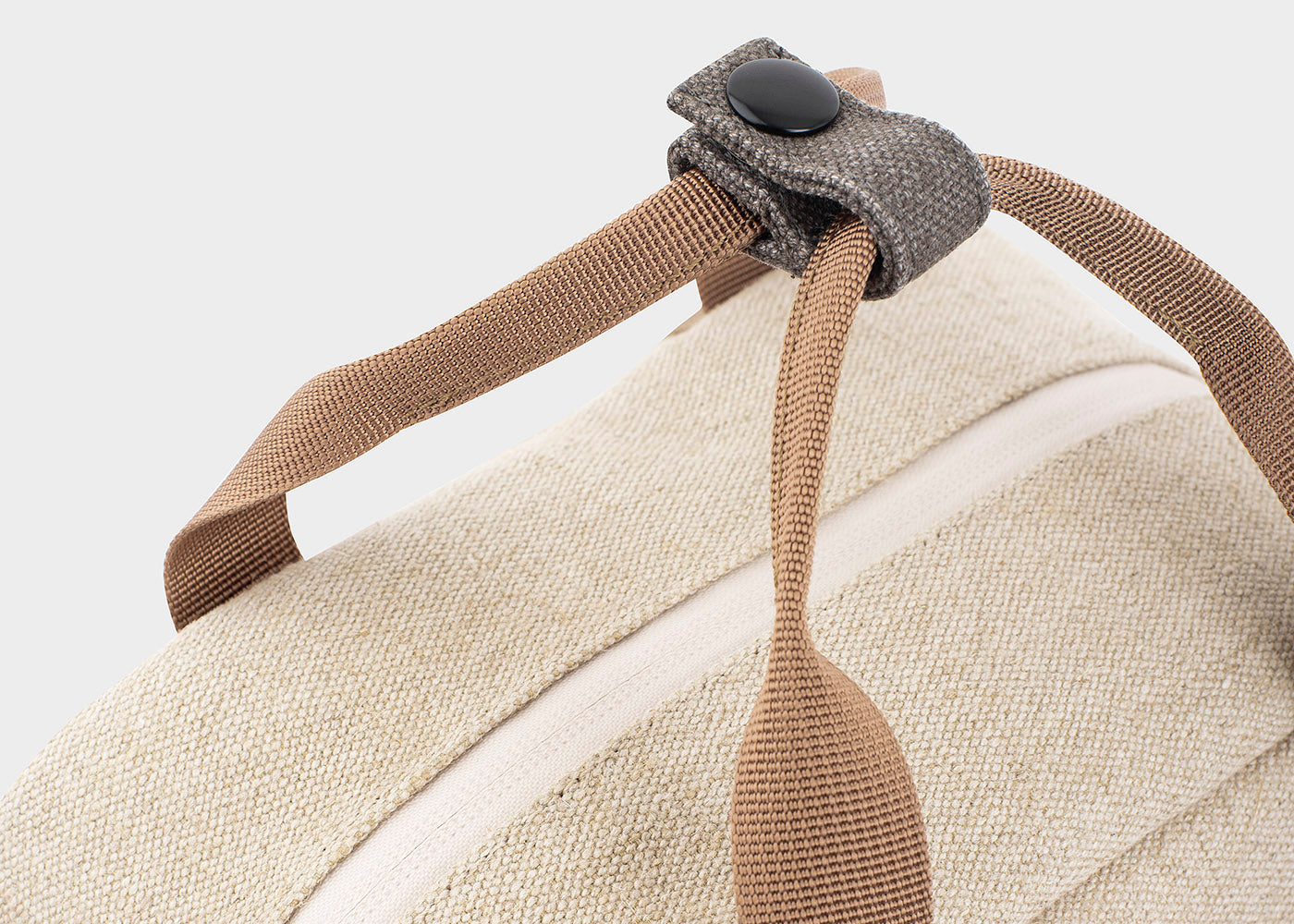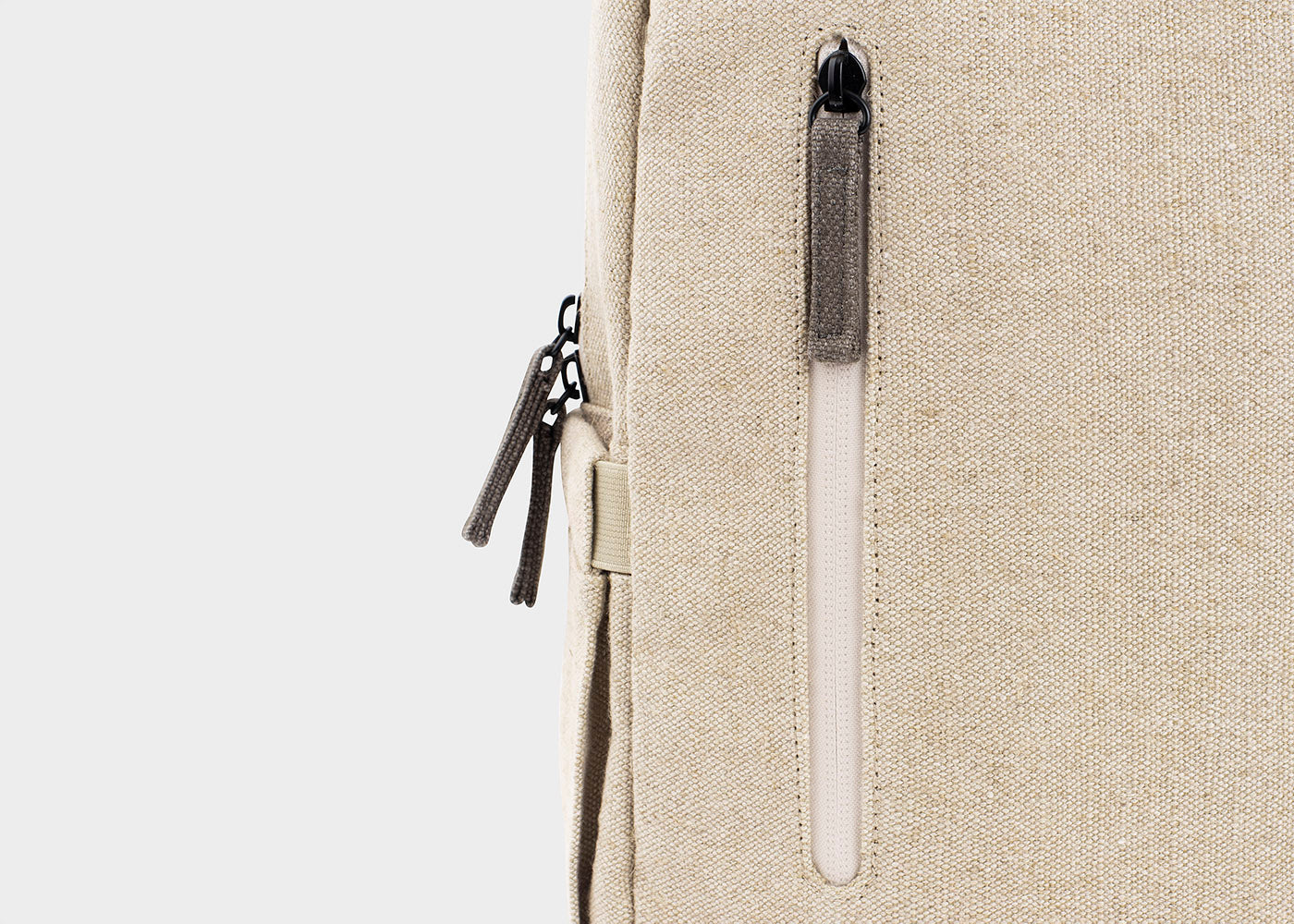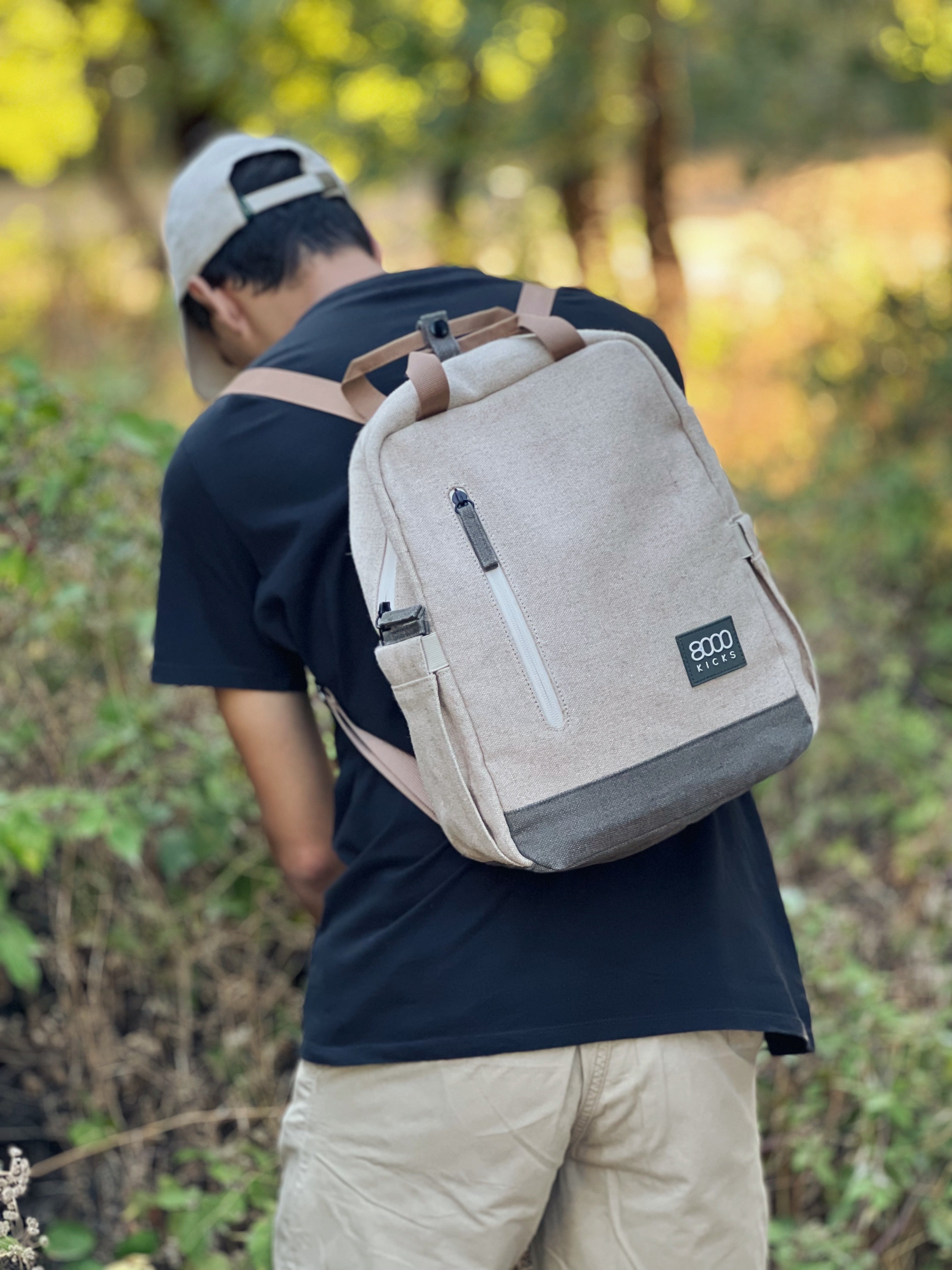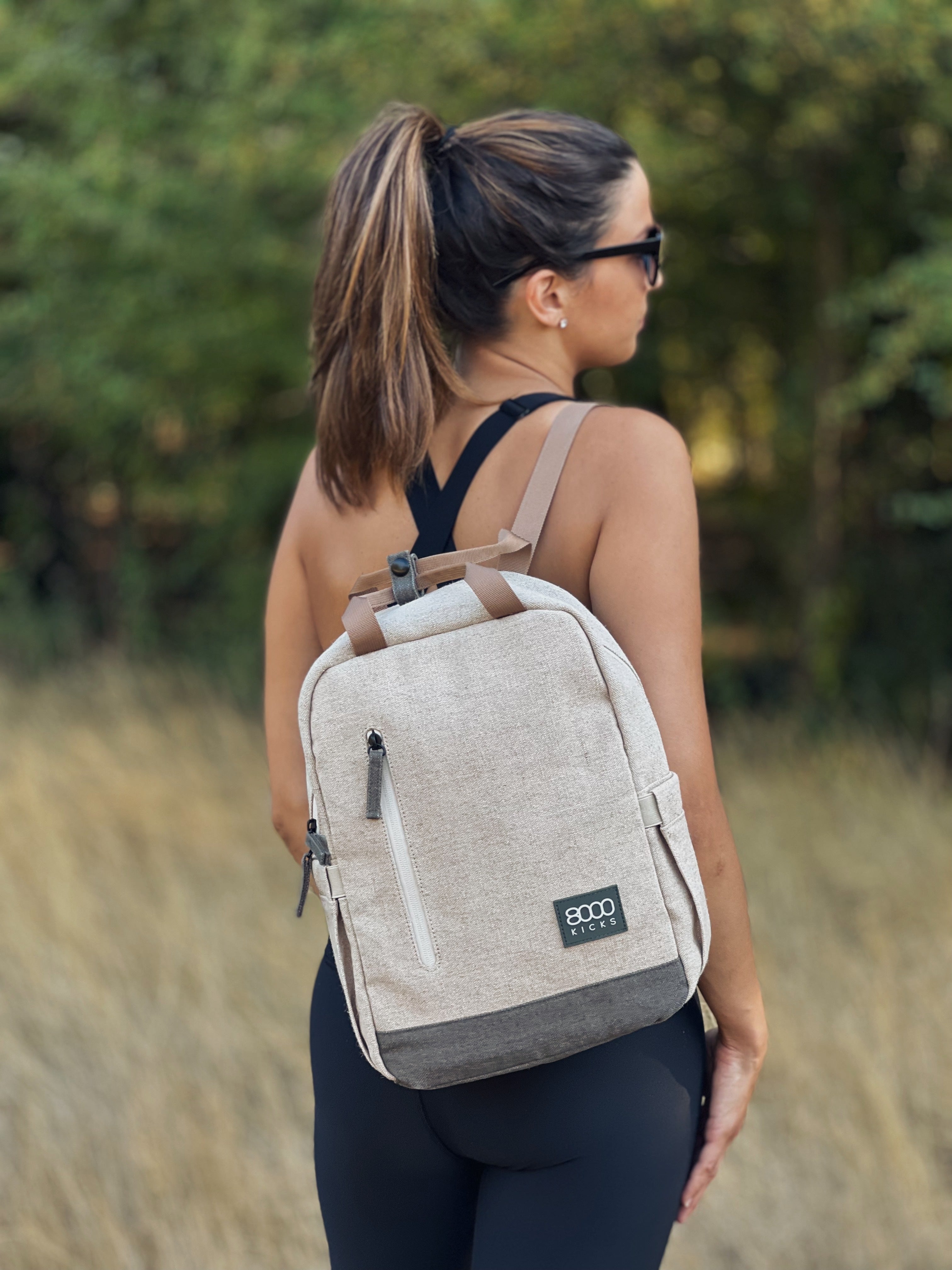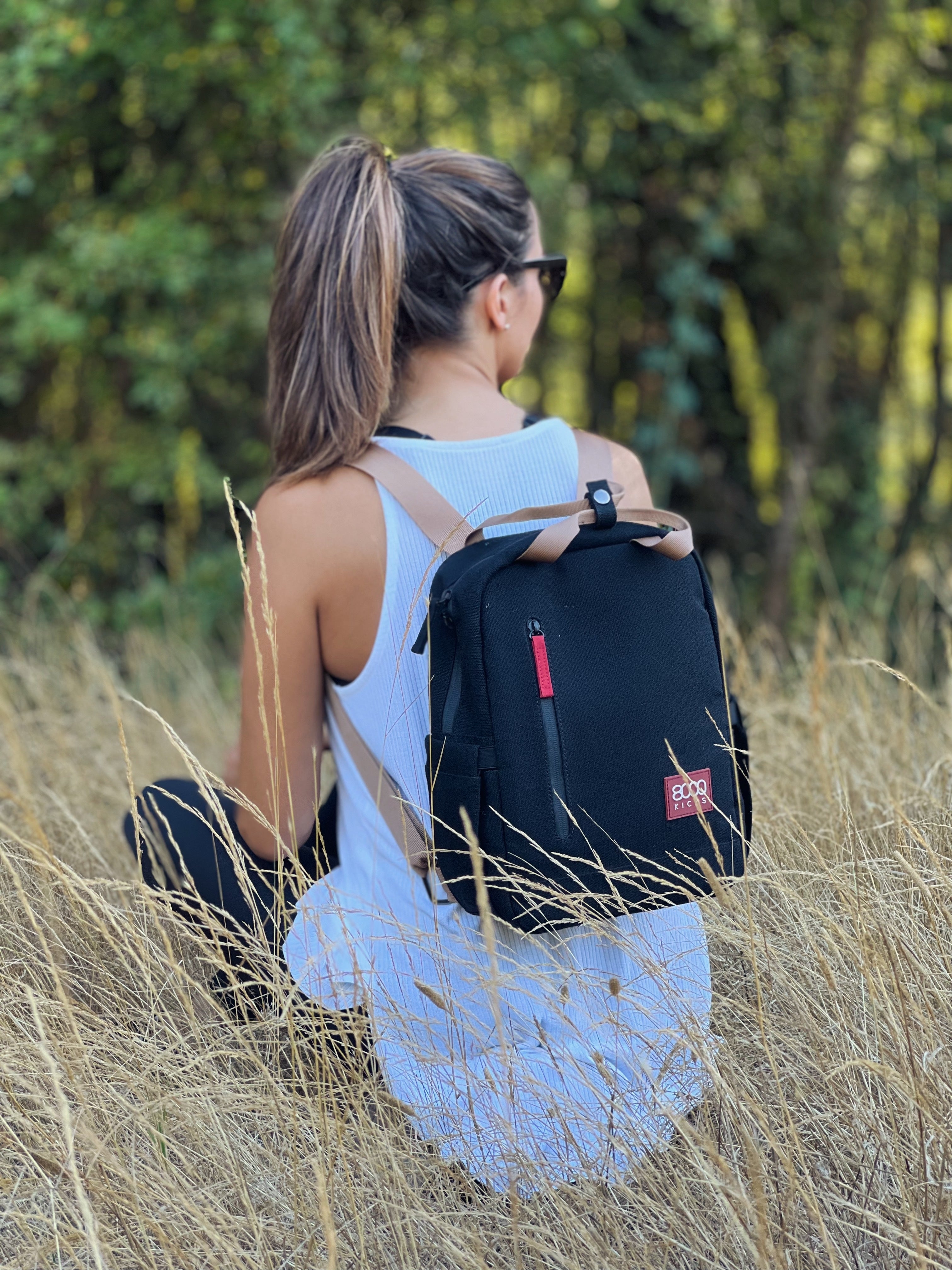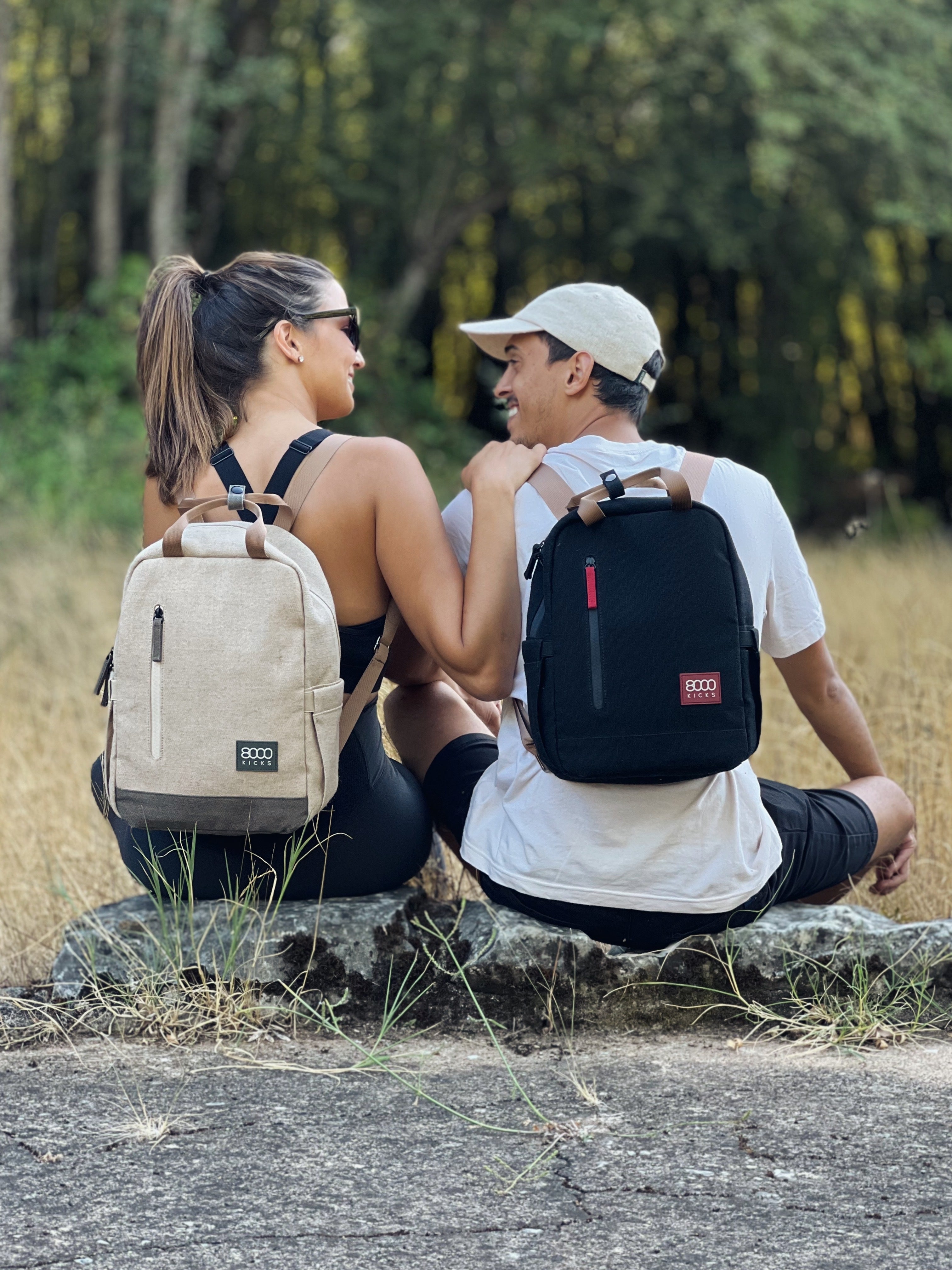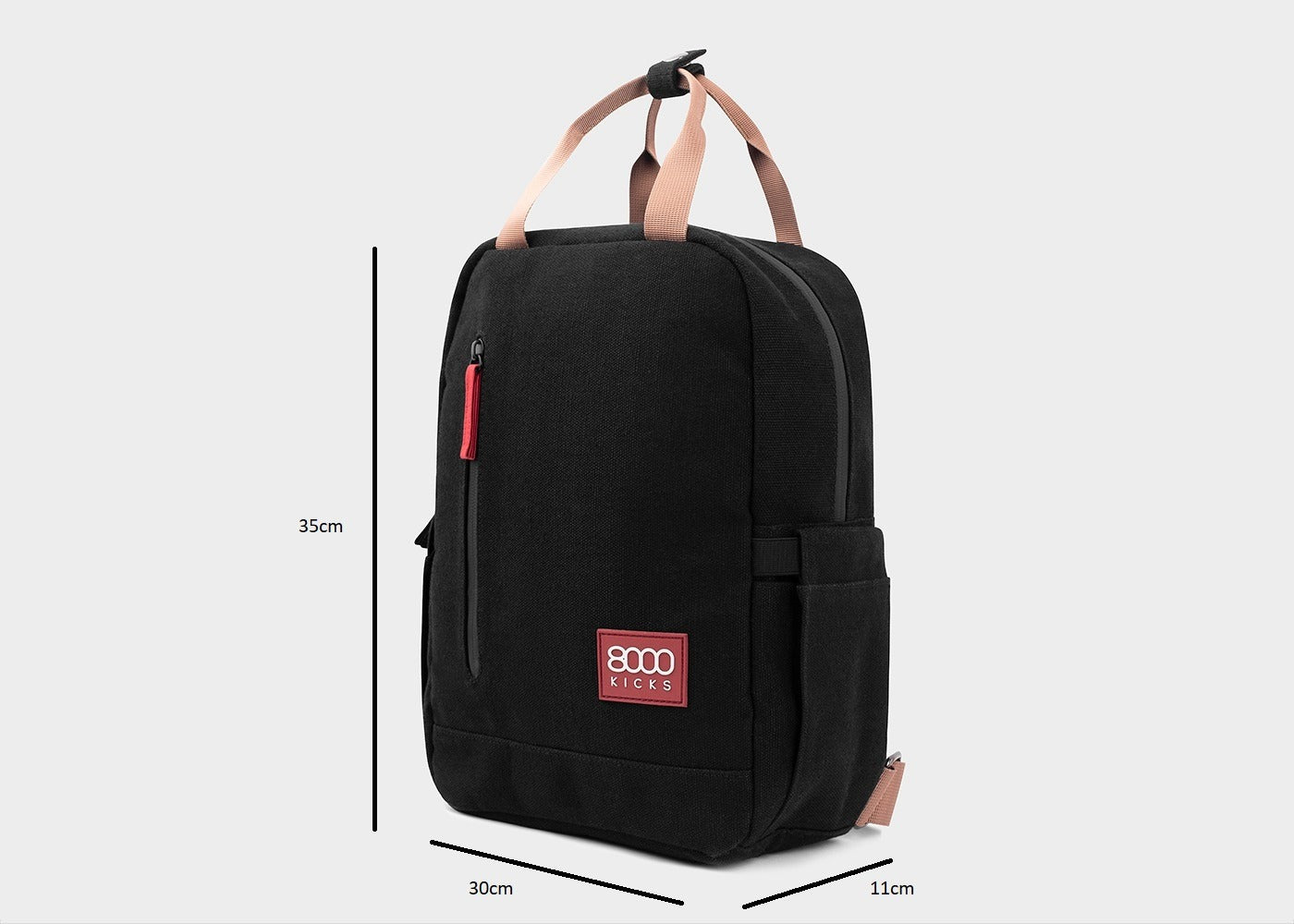 8000Kicks
Small Hemp Backpack in Beige and Green
The same backpack and hemp quality, in a smaller design. This everyday model has space for a 13' laptop and most 14' out there. It's very compact and discrete, but big enough to fit all your work essentials. It also comes with a waterproof construction for using any day of the year.
PRODUCT DETAILS
💦 Water Repellent (PFC free)
💪 Durable
🍁 100% Hemp
💻 Fits 13' and most 14' computers
🧳 Spacious 15L
⚖️ Only 500g | 1.10lb
Double sleeves and extra zippers
Double side compartment, front and inside zipper, and double side pockets for your bottle and your umbrella. A small compact backpack that fits a lot more than you can imagine.
Premium waterproof zippers
Have you thought how many times do you use zip and unzip your bag?
We have picked premium zippers that last a long time and survive a lifetime of beatings and dust. They are also waterproof to protect all your inner belongings.
Upper puller handle
Slide in your backpack straps or hand carry your backpack in style everywhere you go. Pin and unpin the strap to open and access inside the bag.
The perfect work backpack
It fits all 13'' and most all 14'' computers with 15L of compacted space for all your work gear. It includes a fast access frontal zipper and two size pockets for your water bottle and your umbrella.
Free exchanges and returns
If you are not happy wit your backpack, you have 60 days to contact us for a free exchange or a return.
1-year guarantee
Our backpack was built using the world's strongest fibers, and it is made to last. Contact us if you have any problem.
Made of Hemp
Hemp is one of nature's best friends and it is not only durable but also vegan and super sustainable.
Small Hemp Backpack in Beige and Green
Are small backpacks made from hemp good?

Hemp is a long lasting material that has been used since 8000bc. It was used to build ropes, ship sails and even some of Ford's cars, and that is why we use it to build our backpacks.

Hemp is also very ecological:

- it consumes 5x less water than cotton

- It restores the nutrients in the soil

- it needs not fertilizers to grow

- it captures CO2 from the atmosphere

By using Hemp we are not only making quality products, we are also helping the environment.

Are pure hemp bags smell proof?

Although our hemp fabric doesn't release any smell, the backpacks are not smell proof, meaning they will not hold any substances from smelling out.

Are hemp backpacks sturdy?

Hemp is a fiber that has been used for millenniums. Ancient Egyptians used it to make rope, textiles, fine linen, and sails.

Hemp is a naturally durable fiber that was widely used in textiles and shoes until it was banned in the 70s. It was also used to build some of Ford's cars.

Unlike cotton, Hemp has long fibers, which brings a big edge in durability when making fabrics. For that reason, hemp is in many ways the strongest natural fiber available, and our backpacks are also very durable.

According to the hemp foundation, hemp can be even stronger than steel.

Are the backpacks 100% hemp?

The bag is not 100% hemp. Although the bag is made almost 70% hemp, there are other synthetic materials like the buckles, the straps, zippers, the lining and the logo rubber patch in front.

The packaging is also made of recycled cardboard.

How can I wash my small backpack?

Our small backpacks are made from premium hemp fibers and we recommend washing them dry using warm water, soap and a kitchen scrub. We do not suggest machine washing as it might damage some of the bag's parts and harm its ability to repel water.

Returns and Exchanges

Each backpack has a period of 60 days be returned or exchanged. It must be in the original packaging. The 8000Kicks reserves the right to ask for pictures to confirm the product is in the same condition as when it was sent.

 

US and EU

Free shipping and returns above $90.

 

UK, Europe (non-EU) and Canada

Reduced shipping for orders above $90. Working on free exchanges and returns.

Free exchanges and returns have been suspended in the UK due to BREXIT.

Where do you ship from? Shipping times?

We currently fulfil our orders from Mira Loma, in California, and from Lisbon, Portugal. Standard shipping times vary:

USA: 3 to 7 days

EU: 5- 7 days

Portugal: 3 days

Rest of the world: 2/3 weeks

What's the backpack measurements?

The Backpack is 25 x 35 x 10cm, that's 4'' x 10'' x 13.8''.

The bag was measured to fit all 13'' and some 14''computers. The perfect bag to carry all your work gear inside a compact design.

Can I take this on a flight? Will police dogs come after me?

8000Kicks are 100% legal everywhere in the world. Our team has traveled to Italy, France, USA, Canada, Morocco, Portugal and many other countries without any issues. Hemp is the sober cousin of marijuana, which means that it has no psychoactive components.

In some countries it is illegal to cultivate hemp, but it is 100% legal to buy and sell finished hemp products like soap, paper and apparel as long as it is produced abroad.

Can I smoke the backpack?

Do you really want to smoke our small backpack? :-D

Hemp is the sober cousin of marijuana, which means that it has no psychoactive components, less than 0.3% THC, so you are definitely not getting high. Now seriously, please note that smoking the backpack is not a good idea and it might get you hospitalized.
{"id":8090994835685,"title":"Small Hemp Backpack in Beige and Green","handle":"small-hemp-backpack-beige-and-green","description":"\u003cp\u003e\u003cspan data-mce-fragment=\"1\"\u003eThe same backpack and hemp quality, in a smaller design. This everyday model has space for a 13' laptop and most 14' out there. It's very compact and discrete, but big enough to fit all your work essentials. It also comes with a waterproof construction for using any day of the year.\u003c\/span\u003e\u003c\/p\u003e\n\u003cp\u003e\u003cspan data-mce-fragment=\"1\"\u003ePRODUCT DETAILS\u003cbr data-mce-fragment=\"1\"\u003e💦 Water Repellent (PFC free)\u003cbr data-mce-fragment=\"1\"\u003e💪 Durable\u003cbr data-mce-fragment=\"1\"\u003e🍁 100% Hemp\u003cbr data-mce-fragment=\"1\"\u003e💻 Fits 13' and most 14' computers\u003cbr data-mce-fragment=\"1\"\u003e🧳 Spacious 15L\u003cbr data-mce-fragment=\"1\"\u003e⚖️ Only 500g | 1.10lb\u003c\/span\u003e\u003c\/p\u003e","published_at":"2023-04-05T19:38:23-04:00","created_at":"2022-10-27T12:01:46-04:00","vendor":"8000Kicks","type":"Backpack","tags":["Color_Beige and Green","Color_Black","Hemp","Hemp Backpacks","Men","spo-default","spo-disabled","spo-notify-me-disabled"],"price":9900,"price_min":9900,"price_max":9900,"available":false,"price_varies":false,"compare_at_price":null,"compare_at_price_min":0,"compare_at_price_max":0,"compare_at_price_varies":false,"variants":[{"id":43626646405349,"title":"Default Title","option1":"Default Title","option2":null,"option3":null,"sku":"BPK\/LITE\/BEIGR","requires_shipping":true,"taxable":true,"featured_image":null,"available":false,"name":"Small Hemp Backpack in Beige and Green","public_title":null,"options":["Default Title"],"price":9900,"weight":500,"compare_at_price":null,"inventory_management":"shopify","barcode":"5065008686682","requires_selling_plan":false,"selling_plan_allocations":[]}],"images":["\/\/www.8000kicks.com\/cdn\/shop\/products\/8000Kicks_36.jpg?v=1680721170","\/\/www.8000kicks.com\/cdn\/shop\/products\/8000Kicks_37.jpg?v=1680721170","\/\/www.8000kicks.com\/cdn\/shop\/products\/8000Kicks_38.jpg?v=1680721170","\/\/www.8000kicks.com\/cdn\/shop\/products\/8000Kicks_39.jpg?v=1680721169","\/\/www.8000kicks.com\/cdn\/shop\/products\/8000Kicks_40.jpg?v=1680721170","\/\/www.8000kicks.com\/cdn\/shop\/products\/8000Kicks_41.jpg?v=1680721170","\/\/www.8000kicks.com\/cdn\/shop\/products\/img-9643.jpg?v=1680858849","\/\/www.8000kicks.com\/cdn\/shop\/products\/img-9652.jpg?v=1680858904","\/\/www.8000kicks.com\/cdn\/shop\/products\/img-9661.jpg?v=1680858904","\/\/www.8000kicks.com\/cdn\/shop\/products\/img-9663.jpg?v=1680858904","\/\/www.8000kicks.com\/cdn\/shop\/products\/WhatsAppImage2023-04-10at14.26.14.jpg?v=1681133434"],"featured_image":"\/\/www.8000kicks.com\/cdn\/shop\/products\/8000Kicks_36.jpg?v=1680721170","options":["Title"],"media":[{"alt":null,"id":32402815090917,"position":1,"preview_image":{"aspect_ratio":1.4,"height":1000,"width":1400,"src":"\/\/www.8000kicks.com\/cdn\/shop\/products\/8000Kicks_36.jpg?v=1680721170"},"aspect_ratio":1.4,"height":1000,"media_type":"image","src":"\/\/www.8000kicks.com\/cdn\/shop\/products\/8000Kicks_36.jpg?v=1680721170","width":1400},{"alt":null,"id":32402815123685,"position":2,"preview_image":{"aspect_ratio":1.4,"height":1000,"width":1400,"src":"\/\/www.8000kicks.com\/cdn\/shop\/products\/8000Kicks_37.jpg?v=1680721170"},"aspect_ratio":1.4,"height":1000,"media_type":"image","src":"\/\/www.8000kicks.com\/cdn\/shop\/products\/8000Kicks_37.jpg?v=1680721170","width":1400},{"alt":null,"id":32402815156453,"position":3,"preview_image":{"aspect_ratio":1.4,"height":1000,"width":1400,"src":"\/\/www.8000kicks.com\/cdn\/shop\/products\/8000Kicks_38.jpg?v=1680721170"},"aspect_ratio":1.4,"height":1000,"media_type":"image","src":"\/\/www.8000kicks.com\/cdn\/shop\/products\/8000Kicks_38.jpg?v=1680721170","width":1400},{"alt":null,"id":32402815189221,"position":4,"preview_image":{"aspect_ratio":1.4,"height":1000,"width":1400,"src":"\/\/www.8000kicks.com\/cdn\/shop\/products\/8000Kicks_39.jpg?v=1680721169"},"aspect_ratio":1.4,"height":1000,"media_type":"image","src":"\/\/www.8000kicks.com\/cdn\/shop\/products\/8000Kicks_39.jpg?v=1680721169","width":1400},{"alt":null,"id":32402815221989,"position":5,"preview_image":{"aspect_ratio":1.4,"height":1000,"width":1400,"src":"\/\/www.8000kicks.com\/cdn\/shop\/products\/8000Kicks_40.jpg?v=1680721170"},"aspect_ratio":1.4,"height":1000,"media_type":"image","src":"\/\/www.8000kicks.com\/cdn\/shop\/products\/8000Kicks_40.jpg?v=1680721170","width":1400},{"alt":null,"id":32402815254757,"position":6,"preview_image":{"aspect_ratio":1.4,"height":1000,"width":1400,"src":"\/\/www.8000kicks.com\/cdn\/shop\/products\/8000Kicks_41.jpg?v=1680721170"},"aspect_ratio":1.4,"height":1000,"media_type":"image","src":"\/\/www.8000kicks.com\/cdn\/shop\/products\/8000Kicks_41.jpg?v=1680721170","width":1400},{"alt":null,"id":32409408372965,"position":7,"preview_image":{"aspect_ratio":0.75,"height":4032,"width":3024,"src":"\/\/www.8000kicks.com\/cdn\/shop\/products\/img-9643.jpg?v=1680858849"},"aspect_ratio":0.75,"height":4032,"media_type":"image","src":"\/\/www.8000kicks.com\/cdn\/shop\/products\/img-9643.jpg?v=1680858849","width":3024},{"alt":null,"id":32409411649765,"position":8,"preview_image":{"aspect_ratio":0.75,"height":4032,"width":3024,"src":"\/\/www.8000kicks.com\/cdn\/shop\/products\/img-9652.jpg?v=1680858904"},"aspect_ratio":0.75,"height":4032,"media_type":"image","src":"\/\/www.8000kicks.com\/cdn\/shop\/products\/img-9652.jpg?v=1680858904","width":3024},{"alt":null,"id":32409408766181,"position":9,"preview_image":{"aspect_ratio":0.75,"height":4032,"width":3024,"src":"\/\/www.8000kicks.com\/cdn\/shop\/products\/img-9661.jpg?v=1680858904"},"aspect_ratio":0.75,"height":4032,"media_type":"image","src":"\/\/www.8000kicks.com\/cdn\/shop\/products\/img-9661.jpg?v=1680858904","width":3024},{"alt":null,"id":32409408995557,"position":10,"preview_image":{"aspect_ratio":0.75,"height":4032,"width":3024,"src":"\/\/www.8000kicks.com\/cdn\/shop\/products\/img-9663.jpg?v=1680858904"},"aspect_ratio":0.75,"height":4032,"media_type":"image","src":"\/\/www.8000kicks.com\/cdn\/shop\/products\/img-9663.jpg?v=1680858904","width":3024},{"alt":null,"id":32419421716709,"position":11,"preview_image":{"aspect_ratio":1.4,"height":1000,"width":1400,"src":"\/\/www.8000kicks.com\/cdn\/shop\/products\/WhatsAppImage2023-04-10at14.26.14.jpg?v=1681133434"},"aspect_ratio":1.4,"height":1000,"media_type":"image","src":"\/\/www.8000kicks.com\/cdn\/shop\/products\/WhatsAppImage2023-04-10at14.26.14.jpg?v=1681133434","width":1400}],"requires_selling_plan":false,"selling_plan_groups":[],"content":"\u003cp\u003e\u003cspan data-mce-fragment=\"1\"\u003eThe same backpack and hemp quality, in a smaller design. This everyday model has space for a 13' laptop and most 14' out there. It's very compact and discrete, but big enough to fit all your work essentials. It also comes with a waterproof construction for using any day of the year.\u003c\/span\u003e\u003c\/p\u003e\n\u003cp\u003e\u003cspan data-mce-fragment=\"1\"\u003ePRODUCT DETAILS\u003cbr data-mce-fragment=\"1\"\u003e💦 Water Repellent (PFC free)\u003cbr data-mce-fragment=\"1\"\u003e💪 Durable\u003cbr data-mce-fragment=\"1\"\u003e🍁 100% Hemp\u003cbr data-mce-fragment=\"1\"\u003e💻 Fits 13' and most 14' computers\u003cbr data-mce-fragment=\"1\"\u003e🧳 Spacious 15L\u003cbr data-mce-fragment=\"1\"\u003e⚖️ Only 500g | 1.10lb\u003c\/span\u003e\u003c\/p\u003e"}